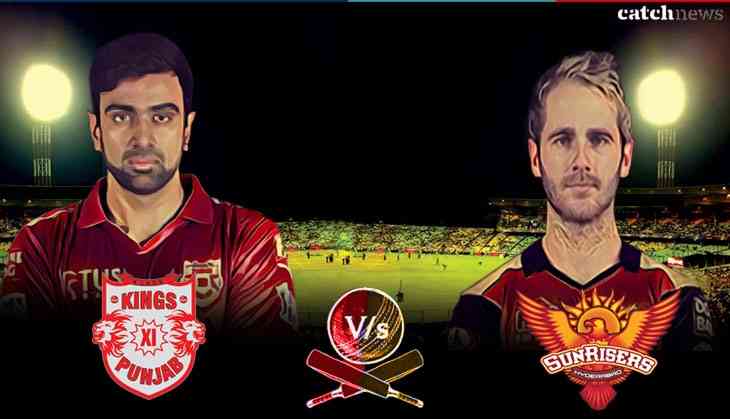 Ravichandran Ashwin has won the toss and chose to field first.
SRH are unbeaten so far this season because and their bowlers' exceptional performance is to be credited more than anything else; SRH have fielded five specialist bowlers, and they've been able to restrict the opposition to totals under 150 on each occasion. Sunrisers Hyderabad will come on the ground to continue their victory campaign. Additionally, there are no actual reasons as to why can they not do so. The clash today will actually be between SRH's specialist bowling and Punjab's exceptional batting.
KXIP XI: L Rahul, C Gayle, M Agarwal, A Finch, Y Singh, K Nair, R Ashwin, A Tye, B Sran, M Sharma, M Ur Rahman

— IndianPremierLeague (@IPL) April 19, 2018
SRH XI: W Saha, S Dhawan, K Williamson, M Pandey, S Al Hasan, D Hooda, Y Pathan, C Jordan, B Kumar, R Khan, S Kaul

— IndianPremierLeague (@IPL) April 19, 2018
With KL Rahul and Chris Gayle as the openers, Punjab are bound to punish the Hyderabad bowlers if the lose their discipline. However, With Bhuvaneshwar Kumar leading the attack that seems difficult to happen.
KXIP XI: L Rahul, C Gayle, M Agarwal, A Finch, Y Singh, K Nair, R Ashwin, A Tye, B Sran, M Sharma, M Ur Rahman
SRH XI: W Saha, S Dhawan, K Williamson, M Pandey, S Al Hasan, D Hooda, Y Pathan, C Jordan, B Kumar, R Khan, S Kaul