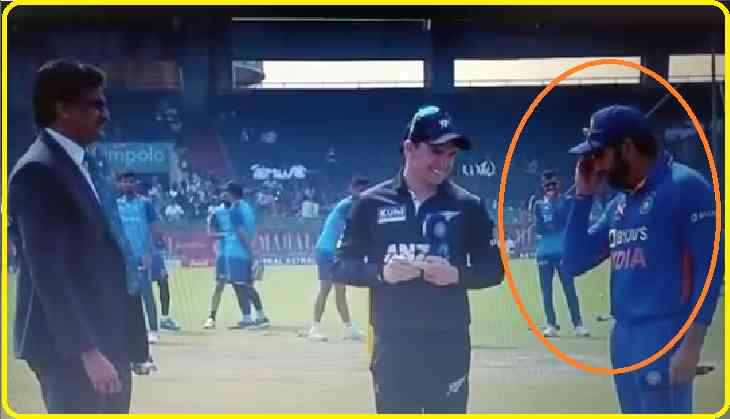 Rohit Sharma's epic brain fade
In cricket, toss plays a crucial role. There is a lot of science behind the flipping of the coin because it gives an upper hand to the winner skipper to decide whether his team wants to bat first or to go with bowl. Winning or losing is sometimes depends the decision the skipper takes after winning the toss.
Before heading to the toss the skipper of any team have a brief discussion with the team management on whether to go for bat or bowl after winning the toss. The toss is so crucial that it sometimes put captains in pressure.
In today's second ODI between India vs New Zealand, Indian captain Rohit Sharma had an epic brain fade moment after winning the toss. He failed to pick whether his team would bat or bowl first and literally freezed for few seconds, leaving New Zealand captain Tom Latham and match referee Javagal Srinath in splits.
In the series opener with New Zealand in Hyderabad, India batted first in which Shubman Gill's terrific double ton helped the 'Men in Blue' to win by 12 runs. Currently, India is 'one up' in the three match series and is aiming to wrap the series by today itself. The match is being played in Raipur, which is hosting its first-ever international match.
Talking about Rohit's brain fade, the skipper flipped the coin in the air and Latham called 'Heads'. The coin showed 'Tails' and now its Rohit to choose whether his team would bat or bowl first. But the Indian skipper forgot what India would do first and started to scratch his head. Watching Rohit's weird gesture Latham and Srinath started laughing. Eventually, after 15 seconds of brain fade, Sharma said 'we will bowl first'.
Watch here.
January 21, 2023
"I forgot what we wanted to do, had plenty of discussions with the team about the toss decision, just wanted to challenge ourselves under difficult conditions, but we'll bowl first," said Rohit, when Ravi Shastri asked him on the brain fade moment.
"Was a good test for us, knowing that the wicket will get better to bat on and that was the challenge in front of us. Bracewell batted well, but we bowled well in the end and won the game. There was a bit of dew during the practice sessions, but we've heard from the curator that it will not play a role on game days. We batted first in Hyderabad, we wanted to bowl first here," added Rohit.
Talking about the both the team, the Indian cricket team has made no changes in tis squad and so have the New Zealand.