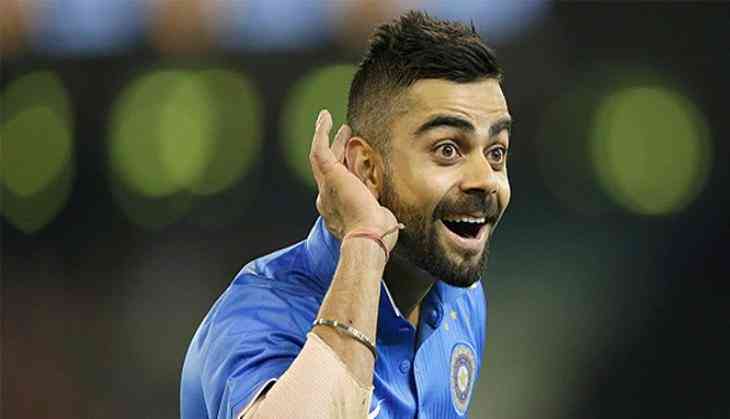 It seems that Aussie fans and former Australian players are still not over the fact that men-in-blue led by Virat Kohli thrashed Australia both in three-match Test series by 2-1 and in five-match One Day International by 4-1. That's why they are trying to rile up Indian cricketer and cricket fans with their antics.
Dean Jones, who is also known as the 'Professor Deano', is a former Australian cricketer, cricket Commentator, analyst and author, on 22 October tried to downplay Indian skipper Virat Kohli's milestones and later got trolled on micro-blogging site Twitter.
In the first One-Day International match against New Zealand at the Wankhede Stadium in Mumbai on Sunday, Virat Kohli created a few more records with his bat.Apart from getting his 31st ODI centuries, he became the fastest cricketer in the world to score 1000 runs in One Day International against Kiwi team.
Indian skipper has just taken 17 innings to create the history with his bat and by doing so he dethroned none other than Dean Jones from the top spot. The Aussie player had taken 19 innings to score 1000 runs against New Zealand.
'Professor Deano' was replying to an Indian fan's post on Twitter to congratulate rather taunt the 28-year-old cricketer and wrote, "Well played @imVkohli !! But then again. it's only New Zealand!"
Well played @imVkohli !! But then again .. it's only New Zealand! 😜
🤣🤣🤣@scottbstyris https://t.co/8Oy8D2uSna

— Dean Jones (@ProfDeano) October 22, 2017
NZ is much better team than Aus😂 Professor😄

— Jolly Good Fellow (@get_sgk) October 22, 2017
Stronger opposition than Aussies 😀

— Sandesh (@sandesh048) October 22, 2017
Aussies should learn from New Zealand batsmen how to tackle spinners. Excellent batting

— Ali Irfan (@alilillah) October 22, 2017
But they won whereas the Aussies were walloped @scottbstyris well done New Zealand the most well planned team to visit India and plays fair

— Kunal Kaveesh Joshi (@funky_kunal) October 22, 2017
You should be ashamed of yourself bcoz you are taking a dig on the best batsman in the world. 👎👎👊👊

— reshmi (@reshmi_me1) October 23, 2017
They won... ull lost... 4-1 at that... lol. Missing u prof. Come back dude...

— Anirudh Bhardwaj (@Ak592) October 22, 2017
'only New Zealand' just swept us away big time Deano

— Vishal Vardhan (@vishal_vardhan) October 22, 2017
Aussie can learn how to play spin from new Zealand team 😂😂 what happened to your team arrogance shattered 🖕

— Moin Khan (@moinkhan786995) October 23, 2017
Other than becoming the fastest cricketer to score 1000 ODI runs against New Zealand, Virat Kohli also left Ricky Pointing behind in the number of ODI centuries. On Sunday, Indian skipper struck his 31st hundred as he became the second-highest century-maker in One-day International and is now behind only the legendary batsman Sachin Tendulkar, who has 49 ODI century.