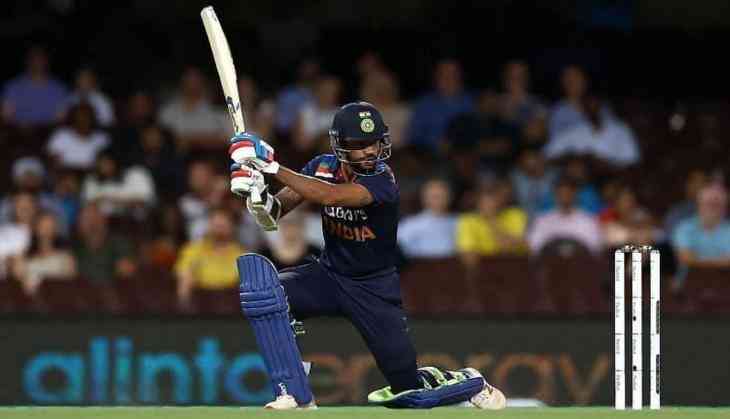 India's opener Shikhar Dhawan on Sunday changed the record books of cricket while batting against the Island nation Sri-Lanka in the first ODI of the three match series in Colombo. Soon after he scored 23 runs, be became the 4th fastest batsman to cumulate 6,000 ODI runs.
The 35-year-old arrived at this milestone by running two runs on the last delivery of the 16th over bowled by Lakshan Sandakan. It took him 140 innings to score 6,000 runs in ODI. The fastest batsman to gather these many runs was South Africa's Hashim Amla who pulled it off in 123 innings. Second in the list is non other than Indian skipper Virat Kohli (136), followed by Kane Williamson (139). Shikhar Dhawan is only second Indian in the elite list.
Shikhar Dhawan also went on to become the 10th batsman to achieve the feat. The others who have gone past 6,000 runs mark are Sachin Tendulkar (18,426 runs), Virat Kohli (12169 runs), Sourav Ganguly (11221 runs).
The other cricketers in the list are Rahul Dravid (10768 runs), Mahendra Singh Dhoni (10599 runs), Mohammed Azharuddin (9378 runs), Rohit Sharma (9205 runs), Yuvraj Singh (8609 runs) and Virender Sehwag (7995 runs).
Shikhar Dhawan, who is playing as a skipper for the first time, also notched up 10,000 runs in international cricket. The opener achieved this exceotional milestone during the opening tie of the three-match series against the island nation.
The left-hander became the 14th Indian batsman to achieve the feat. Ahead of going out to bat in the first ODI against Sri Lanka, Dhawan had 5977 runs under his belt from 142 ODIs, which includes 17 hundred and 32 fifties. He has cumulated 1673 runs in 65 T20Is and 2315 runs in 34 Test matches.
With just 35 runs needed, Dhawan got to the feat in the 20th over with single of Lakshan Sandakan's delivery. It was the 261st innings of his international career.
The fastest to this feat is non other than skipper Virat Kohli who had gone past the feat in 232 innings. Sunil Gavaskar stands second in the list having crossed the figure in 243 innings. Sourav Ganguly, Sachin Tendulkar, and Rahul Dravid round up the top 5 with 253, 256, and 257 innings respectively.
Earlier, the men in blue restricted the host nation to 262 for 9. Kuldeep (2/48) and Chahal (2/52 did not exactly run through the Sri Lankan batting order but bowled enough wicket-taking deliveries to choke the opposition. Krunal Pandya (1/26) also contributed in to make run-scoring a tough task for the Sri-Lankan middle order.
Also Read: Virat Kohli urges people to support Indian athletes in Tokyo Olympics
Also Read: Sachin Tendulkar shares video displaying different beard styles, fans come up with suggestions [watch]