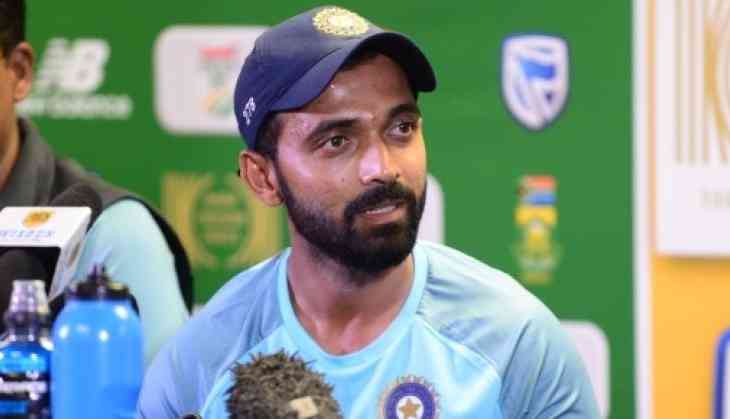 Ahead of the third Test of the Border-Gavaskar Trophy at the Melbourne Cricket Ground (MCG), India vice-captain Ajinkya Rahane on Monday said that visualisation really helps him counterattacking the opponents.
"I am an attacking batsman but definitely need visualization, and read the situation. I visualise not only in my room but in the dressing room as well. I think reading the situation is really important because we all know about Australian attack. They come really hard at us and the best option is to go out in the middle and put them on the back foot rather than just taking your time," Rahane told the reporters at a pre-match press conference.
Having lost four wickets at the meager score of 56 by the lunch in the first session at Adelaide, the visitors were in deep trouble with almost their entire top-order back in the pavilion. Cheteshwar Pujara, along with middle-order and tail-enders, knitted small partnerships and smashed 123 runs, which helped his side win the first Test.
"Sometimes, it is important to take your time but we have (Cheteshwar) Pujara who actually takes his time really well and bats in that manner," the vice-captain said while acknowledging Pujara's brilliant form.
While reflecting on his shots, the 30-year-old, who amassed 70 runs and stitched an 87-run stand with Pujara in the second innings of the Adelaide Test, and hit a half-century (51) in the first innings of the Perth Test, said: "I was thinking what were the important shots on that particular wicket first in Adelaide and then in Perth. I think you have to take that risk and be brave to take that call in the middle because as a batsman it is your responsibility to make things happen."
Talking about the upcoming third Test, Rahane stated that rather than thinking about the pitch, it is important to play some good cricket.
In spite of being fully committed and determined in the Perth Test, India's poor batting in the second innings led visitors to a crushing 146-run defeat against Australia. With the victory, the hosts leveled the four-Test match series 1-1.
"I am really happy and excited about this Test match. We all know how big this 'Boxing Day' is. Coming here at 1-1 is really good as we expected that Australia will bounce back in Perth. We had our chances in Perth but it is important to stay in present right now and give our best rather than thinking about what happened in the Perth or in Adelaide," Rahane added.
"It is important to give our best in every session. I think this is what matters in Test cricket. We have to give our more than 100 percent because the game can change in a session. We need some good batsman-ship in these two Test matches and I am sure our batsmen will take that responsibility," he added.
Other topics touched by the Indian vice-captain included the fitness of spinner Ravichandran Ashwin, batsman Rohit Sharma and the verbal spat between captain Virat Kohli and Australia captain Tim Paine at the Perth Stadium on the fourth day.
When asked about Ashwin's health, who sustained a left-sided abdominal strain ahead of the Perth Test, Rahane said: "Team management is assessing him. They will be in a better position to answer." Meanwhile reacting to Rohit Sharma's fitness, who jarred his lower back when he was fielding in the opening Test at the Adelaide Oval, the vice-captain added: "I guess Rohit is fit because he batted yesterday in the net and he is looking really good. We will, however, take a call after the net session tomorrow."
Kohli and Paine were engaged in some exchange of words as the hosts were strengthening their position in the Perth Test. Soon after, on-field umpire Chris Gaffaney had to interrupt the two players reminding them that they both are captains of their respective teams.
"Whatever happened on the field was really good, competitive and I hope you all enjoyed that. As long as you are focused you can sledge. But at the same time you must stay focused and be competitive," Rahane concluded.
India and Australia will play their third Test from December 26 to 30 at the Melbourne Cricket Ground.
-ANI