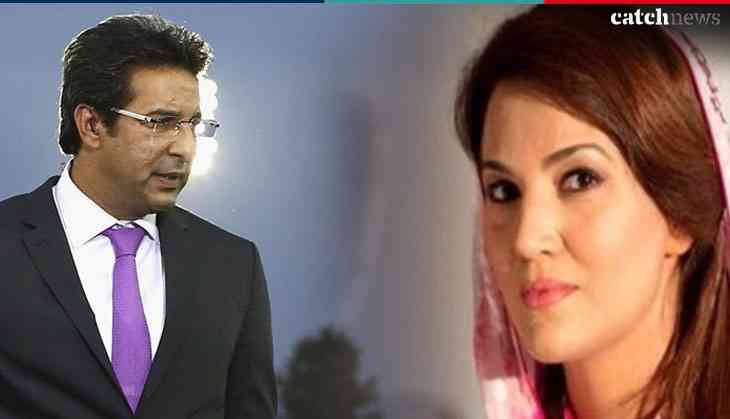 The Former captain Wasim Akram has sent a legal notice to cricketer-turned-politician Imran Khan's ex-wife Reham Khan after she made sensational disclosures about their sex lives in her upcoming book titled 'Reham Khan' . The Book also included the details about the sex lives of various celebrities.
The book 'Reham Khan' is premised on her personal experiences as a "mother, wife, journalist and warrior".
Imran Khan's ex- wife Reham also received legal notices from her ex-husband Dr Ijaz Rehman, a British businessman, Syed Zulfiqar Bukhari, and Imran Khan's Pakistan Tehreek-i-Insaf (PTI) media coordinator Anila Khawaja for tarnish them in her book '.
The upcoming book 'Reham Khan', apparently includes details of her interactions with various celebrities and her marriage with Imran Khan which ended in divorce 15 months later.
As par reported in Times of India "Reham has alleged that Wasim Akram used his late wife to fulfil his sexual desires and fantasies. The former wife of Imran Khan added that Akram arranged a black man who had sex with his late wife in front of his eyes. As per the leaked book, this explosive content was at pages 402 and 572.
"This is grossly defamatory, indecent and disrespectful to our client's late wife. Wasim Akram is an internationally well-known former Pakistani cricketer and media personality who is being acknowledged by cricket experts and fans as being one of the best test fast bowlers in the history of first-class cricket," the notice, issued by a West London law firm to Reham Khan on May 30, said.
As per reported in Geo.Tv it is cited that "there are defamatory imputations against Mr Sayed Z Bukhari at pages 464 and 539 of the Manuscript. Mr Rehman has accused of multiple failings in his marriage through much of the manuscript beginning with the Chapter entitled 'The Door' at page 5. Mr Rehman is portrayed ( wrongly our client asserts ) as being nasty, mean and cruel. You have accused Mr Rehman of assault at various points in your manuscript which are detailed in Schedule A. At one point you imply that this has gone on for 12 years throughout your marriage but at another point in your manuscript you contradict this when you state that the violence only started after your son Sahir was born."
Also Read : Women's Asia Cup: First Pakistani Women cricketer to scalp five-wicket haul