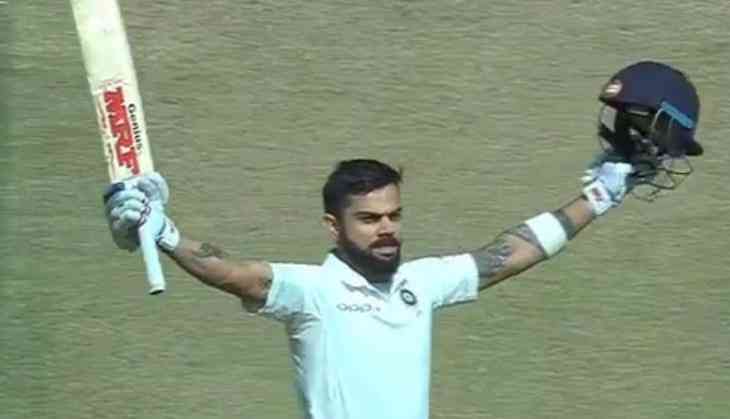 The Indian skipper Virat Kohli is just 29-year-old, yet the cricketer has broken the records of the many legendary players in the game of fame cricket. It was recently when in second Test match Virat equalled the record of the Wall of Indian cricket Rahul Dravid by hitting 5th double centuries of his Test career.
Virat Kohli is the 8th overall player to have the maximum number of centuries in the international cricket with 51 centuries and second Indian after master blaster Sachin Tendulkar.
On Thursday, Indian skipper shared a memorable moment of his cricketing career when he had an important pep talk with his squad in 2014 during Australia tour. Indian skipper was leading Indian squad in Australia in the absence of former Indian captain MS Dhoni. Virat shared the details of the dressing room of Adelaide Test on the 4th day.
While talking at the CNN-News18 Indian of the Year 2017 Award function Virat said, "Whatever target they give us tomorrow, we're going for it. If there's any hesitation or anyone wants to oppose it, you tell me right now, or we go to our rooms knowing we're going to meet the target. So it hurt a lot not to cross the line, but it gave us a lot of confidence as a team that we could win anywhere."
Also Read: Here is what happened when Miss World Manushi Chhillar met Indian skipper Virat Kohli
"There have been so many, but purely in terms of the transition, the second innings hundred at Adelaide where we almost won the Test match..." Virat further said.
In the on-going Test match series against Sri Lanka, Indian team is leading the series with 1-0.