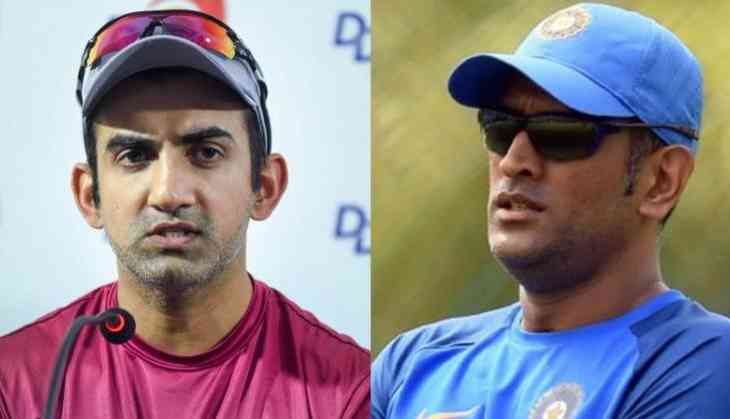 MS Dhoni has been a very popular figure in the Indian cricket, his is worshiped for winning two World Cups, Champions Trophy, and taking the men in blue to the number one spot in Test cricket. While, on the other hand, MSD is criticized for favouritism, some contentious judgements when it came to player selection and treatment of senior players in time of his captaincy.
At the moment, a huge cloud of uncertainty looms over MS Dhoni's career going forward, given that team India failed to qualify for the ICC World Cup final, his batting was highly criticized and his wicket keeping skill was also disappointing, MSD gave away the most number of byes in the tournament.
One player who didn't spear a chance to criticize MS Dhoni was Gautam Gambhir, who acknowledged that he had differences with Dhoni, because of his captaincy.
Not long ago, on a TV show, cricketer turned politician Gautam Gambhir shared an occasion when MS Dhoni decided that Sachin Tendulkar, Virender Sehwag and Gautam Gambhir cannot play in the same team any more. It was during the ODI series in 2012 in Australia and MSD as a skipper didn't want three senior players hindering the fielding quality.
"In the 2012 Tri-series in Australia, Dhoni declared that he can't play all three (Gambhir, Sachin and Sehwag) of us together as he was looking ahead at the 2015 World Cup. It was a massive shock, I think it would have been a massive shock for any cricketer. I have not heard anyone be told in 2012 that they would never be a part of the 2015 World Cup. I always had the impression that if you keep scoring runs, age is a just a number," Gambhir was quoted as saying by India Today.
Over and above that, Gautam Gambhir stated that MS Dhoni had taken that decision in order to bring in youngsters in preparation for the 2015 World Cup. Gambhir also went on to say that it is the job of selectors to decide on Dhoni's future, who might stay out of the West Indies tour. The 38 year has come under huge pressure due to his dismal performance with the bat during the ICC World Cup 2019.