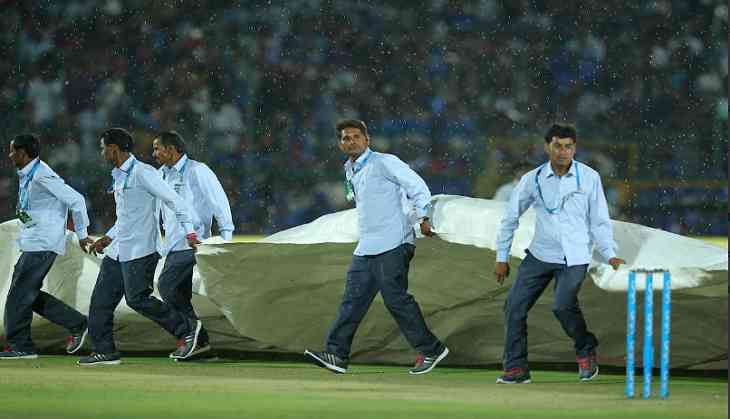 22:47 IST: Inspection to be held at 11 PM after rain stops.
22:40 IST: Bad News! Heavy rains and covers on!
22:25 IST: From now, the overs will be lost!
The sixth match of the 11th season of the IPL tournament between Delhi Daredevils, led by Gautam Gambhir and Rajasthan Royals, led by Ajinkya Rahane is taking place in the Pink City, Jaipur but due to bad weather conditions and continous rains the game has stopped in the middle. The toss was won by Delhi Daredevils who opted to bowl first against RR. Now that the rains have stopped, the covers are coming off which means the game could begin anytime soon.
After the first three overs, the score was taken to 27/1 by Ben Stokes and Ajinkya Rahane. But in the fourth over, Stokes got it hard from Trent Boult and lost it over for 16. Score till then, 28/2
After the 10th over, Rajasthan Royals scored 84/2 with Rahane at 29 and Samson at 33. The team scored 100 after the end of 12.1 overs. The 15th over proved to be great for Mohammed Shami who gave only four singles to the RR team and the score 117/4.
After the end of the 17th over, RR managed to gather 18 runs with the help of two sixes and a four and the score turned to 144/4. By the end of the 17.1 over, RR has earned 150 runs. Buttler got clean bowled by Shami and the score remained the same.