Rohan Raj
| Updated on: 10 February 2017, 1:46 IST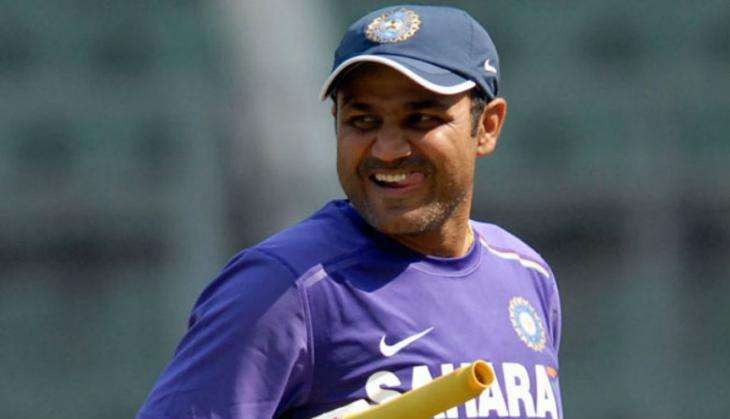 It's been more than three years that one of India's most destructive opener, Virender Sehwag, bowed out from international cricket. But, after conquering the gentleman's game, the former Indian batsman continues to enthrall his fans with his never-ending and ever-entertaining wit off the field.
For a batsman who has always trusted his instincts more than the technique, Sehwag seems to have found a new pitch for himself as he continues to hit sixes with his uncanny humour.
Whether it is the social media or personal interviews, the former Delhi batsman somehow manages to sweep fans off their feet with a masala of fun, pun, sarcasm and also, what is now being labelled as, just simple 'Sehwagasm'.
After conquering the social media, Sehwag is now busy setting the tempo in the commentary box. Asked to commentate in the ongoing India vs New Zealand, 2nd Test in Kolkata, the commentary team seems to be getting a hang of Sehwag's wit.
It's like deja-vu; you're transported back to when Sourav Ganguly made his debut in the commentary box. Naseer Hussain, who eventually got served, asked Dada: "When can I see India in the FIFA World Cup?" To which Ganguly replied,"If India had played football for 50 years, then we would have qualified for the finals at least once - unlike England."
So clearly, Sehwag is not the only cricketer who has surprised everyone with his sharp talk, but it is his unique harmless-yet-lethal approach towards popular trends that makes him an undisputed comedy king of cricket.
With the innovative one-liners decorated by his typical dry humour, the ever-smiling Sehwag has managed to carve his own niche. So don't be surprised if you see him replacing Navjot Singh Sidhu on India's popular comedy soap 'The Kapil Sharma Show'.
The impeccably hilarious birthday wishes
While a majority of Twitter users find it hard to adhere to the 140-characters tweet limit, Sehwag not just manages to put his point across but he also does that with flair. The way he conveyed his wishes to James Anderson, Jonty Rhodes, and Jacob Oram is just hilarious!
Happy BdayJames Anderson @jimmy9 .Before u most popular Anderson here was Pamela Anderson.#ModernDayGreat pic.twitter.com/jvnn2ufPnd

— Virender Sehwag (@virendersehwag) July 30, 2016
Hpy Bdy @JontyRhodes8 who while fielding gt confusd&literally playd'Chidiya Ud'(Bird Fly) #HumansCanFly#UdanKhatola pic.twitter.com/vFgOeGn2Hy

— Virender Sehwag (@virendersehwag) July 27, 2016
O Ram Ji,ur bowling seemed like someone bowling from 2nd floor.
Happy Bday Jacob Oram!
Mera piya ghar aaya ORamJi ! pic.twitter.com/yhTXLymB1U

— Virender Sehwag (@virendersehwag) July 28, 2016
Sehwag didn't stop just there, the West Indies batting legend Sir Gary Sobers also fell prey to his wit earlier this year.
Happy Bday Sir Gary Sobers.The way u destroyed opposition with ur batting& bowling they wud hav never said u r Sober pic.twitter.com/Onh6CzTbPG

— Virender Sehwag (@virendersehwag) July 28, 2016
What does Michael Phelps and Bappi Lahiri have in common
During the Rio Olympics earlier this year, American swim legend Michael Phelps became the most decorated Olympian in history after leading his country to victory in the 400-m medley relay.
The 31-year-old finished a career that spanned five Olympics with 28 medals, 23 of them gold. No other athlete in any sport has more than nine gold medals. And, as the congratulatory messages poured in for Phelps, no one - other than Sehwag - would have thought to compare the American with Indian music composer Bappi Lahiri.
Michael Phelps only man likely to beat Bappi Lahiri.#GoldKiBarsaat

— Virender Sehwag (@virendersehwag) August 10, 2016
Sehwag's love-hate relationship with Shoaib Akhtar
While India and Pakistan share one of the most-talked about rivalry in cricket, the players from both the teams have equally shared friendly banters, both on and off the field.
Former Pakistan speedster Shoaib Akhtar and Sehwag share a similar bond. It was always a tussle when the hard-hitting batsman from Najafgarh came face-to-face with the Rawalpindi express on the cricket field.
But, now that the duo is far away from the cricket field, they still continue to share pleasantries. It was Shoaib's birthday on 13 August when Sehwag dropped another witty bomb on the 41-year-old.
Happy Birthday @shoaib100mph ,Chalti Firti Titanic,
Doobiyo Mat.#IndiaIsGreat#ShoaibKiBirthdayViruKiParty pic.twitter.com/Vh7UAjqyen

— Virender Sehwag (@virendersehwag) August 13, 2016
Piers Morgan gets owned
During his playing days, the Nawab of Najafgarh was not just known for punishing the bad deliveries, but for his aggressive batting style allowed him to dispatch the good ones as well. On Twitter, Sehwag faced a similar situation when British journalist Piers Morgan tweeted about India's struggling Olympic campaign in Rio.
Epic reply from Sehwag to Piers Morgan! pic.twitter.com/UvB1zqL5vg

— CricFit (@CricFit) August 24, 2016
Not the one to back out from a fight, Viru joined the debate by asking the 51-year-old about England's form at cricket World Cups. Taking Viru head-on, Morgan came back for Round 2 after England registered a record-breaking total of 444 runs against Pakistan in August this year.
Hi @virendersehwag, I bet you 1 million rupees to charity that England wins a ODI World Cup before India wins another Olympic Gold. Accept?

— Piers Morgan (@piersmorgan) August 30, 2016
But, Sehwag knocked out Morgan for the second successive time with his amazing one-liner. And, the rest is history.
Some people's fortune is so bad, that
Apply Apply,
But No Reply ..
Hahahaha

— Virender Sehwag (@virendersehwag) August 31, 2016
Return to the commentary box
The excitement usually soars high when Sehwag is involved in the scheme of things. And when the King of Multan was invited to commentate in the second Test between India and New Zealand, the commentary team and the fans were in for thorough entertainment.
.@virendersehwag, @ImZaheer & @cricketaakash ponder over fruitless predictions on #KentCricketLive on Star Sports! pic.twitter.com/gplGuf0xPQ

— Star Sports (@StarSportsIndia) October 1, 2016
During the Day 2 of the Test match, Sehwag was seen sharing fun banter with anchor Jatin Sapru and his other commentary teammates. He revealed the dressing room and expressed his disappointment that none of the Indian batsmen had smashed a six against the opposition bowlers - especially against off-spinner Jeetan Patel.
This according to him was quite embarrassing and while joking he also said that the Indian batsmen whould go 'drown and die' instead of batting.