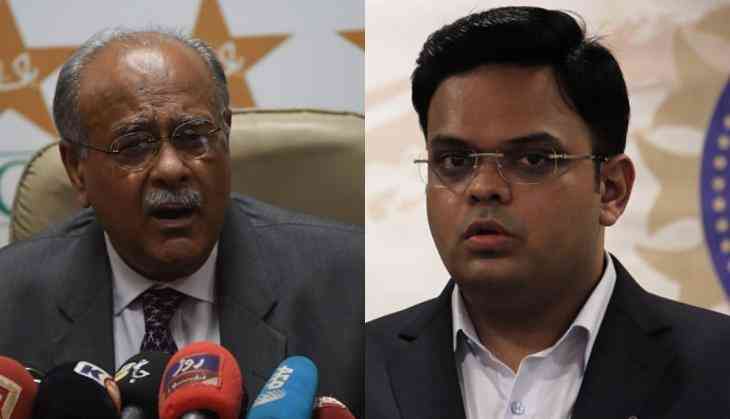 Pakistan Cricket Board (PCB) and the Board of Control for Cricket in India (BCCI) are yet to reach to a conclusion over the Asia Cup 2023 row that had started in October last year with a statement from BCCI secretary and president of the Asia Cricket Council (ACC), Jay Shah, leading to a war of words.
However, PCB chief Najam Sethi has now given an important information on the matter, revealing the date of the ACC meeting in the Asia Cup row while also adding Indian cricket board's latest demand.
In October, in the midst of reports that India would be going to Pakistan for the first time in over a decade, Jay Shah revealed that such won't happen before insisting on a change in venue. The statement left PCB furious with the board hitting back by threatening to withdraw from the ODI World Cup in 2023 which will be held in India.
Then PCB chief Ramiz Raja had reiterated the same in many of his interviews on the issue, while clarifying that Pakistan were more hurt by the statement that their hosting rights for the 2023 Asia Cup would be taken away.
The current PCB chairman Najam Sethi, since the start of his term, has not made any statement on the issue and has rather waited for the ACC meeting.
"Finally, we have a date now to meet ACC officials. I will attend ACC's meeting on February 4 in Bahrain. I am not sure about our stance for now; I will decide it in the meeting, keeping an eye on the situation," Sethi said.
Sethi also provided an update on BCCI's latest demand on the controversy, saying that the Indian board is willing to host Pakistan for the World Cup, but is unwilling to travel to Pakistan for the Asia Cup.
"BCCI wants Pakistan to travel to India, but BCCI doesn't want India to play in Pakistan. This is not something new for us," said Sethi.
Also Read: 'I've better conversion rate than Virat Kohli. I'm world No.1 in 50 overs cricket': Pak batsman's bold claim