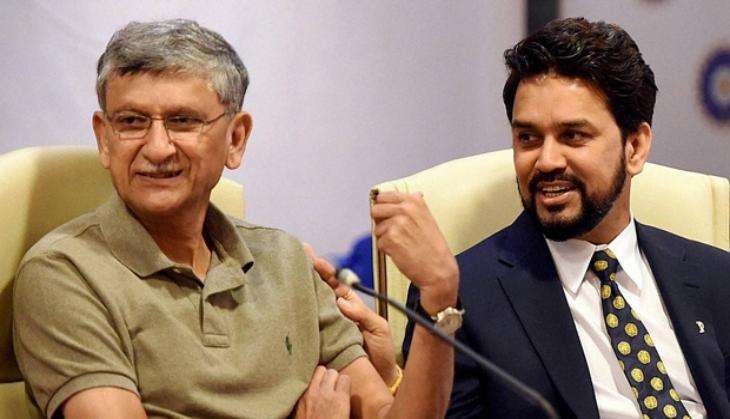 BCCI secretary Ajay Shirke made it clear that he will be relinquishing his post of president of Maharashtra Cricket Association (MCA) as the "parent body will need him more" in a situation when it is going through major structural reforms.
With Supreme Court making it clear that it will be a case of one post per person in the cricket body, the Pune based business tycoon has made his choice.
"I have always said that I have no fascination for designations. If somebody wants, they can take away both posts (BCCI and MCA) from me. But if you ask me, I feel at this juncture, the board (BCCI) needs me more than my state association. I am a person who will not run away from my responsibilities unless the members ask me to do so," Shirke said.
Incidentally, under the One-State One Vote recommendation by Lodha panel which has been accepted by Supreme Court, Maharashtra despite being the mother state may not have voting rights along with Vidarbha as Mumbai is the biggest cricket team from the region. However rotation policy may allow one unit to get voting right per year.
Shirke said that the board members will be meeting in Mumbai next week as there are a few meetings lined up at the Cricket Centre.
"We have to study and digest the 143-page report first. The members will be landing in Mumbai as there are a few routine meetings lined up regarding the finances. The balance sheet is being prepared. Since the members will be coming, it is only obvious that we will be speaking and the issue will come up for discussion. Together, we will chart a road ahead," said Shirke.
It will be interesting as to what decision BCCI president and BJP MP Anurag Thakur takes as he is also the president of Himachal Pradesh Cricket Association (HPCA).
Similarly, Aniruddh Chaudhary and Amitabh Chaudhary, who are secretary and president of Haryana CA and Jharkhand CA respectively will also in all possibilities relinquish their state association posts.