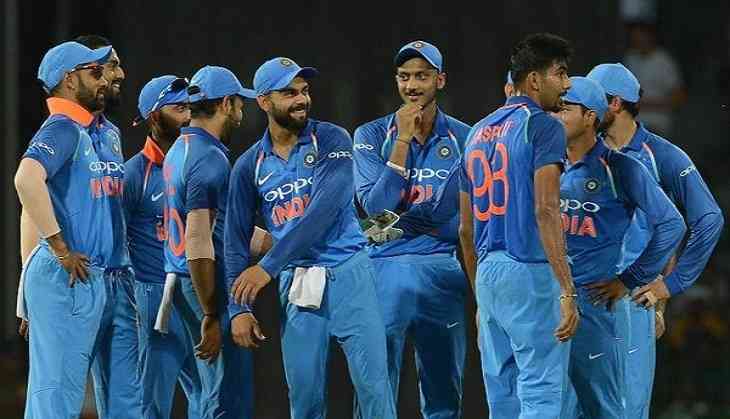 Virat Kohli-led team India has wiped out Sri Lanka after defeating them in the whole series of One Day Internationals, Test, and T-20.
Team India won the last and only T-20 match against Sri Lanka on 6 September. With this India has made a world record by winning all 9 matches in the entire tour.
And now a paper has been recovered from the dressing room that was left intact in their dressing room.
The paper revealed all the weaknesses and strength of Sri Lankan player and how to tackle them.
India will play against Australia from 17th September.
India and Australia are both on 117 points with the Steve Smith-led side ahead on decimal points. A win for either side by a margin of 4-1 or better will see it move to number one position.
Have a look: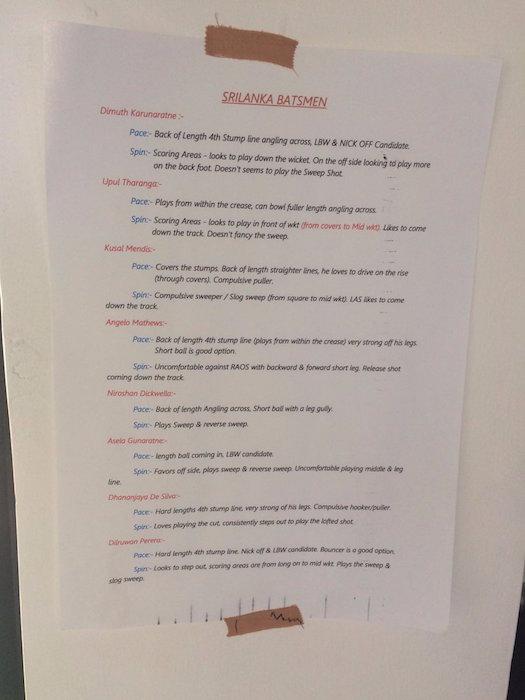 Ind vs SL (Twitter)
The text read,
Dimuth Karunaratne
Pace:- Back of Length 4th Stump Line angling across LBW & NICK OFF Candidate.
Spin:- Scaring Areas- Looks to play down the wicket. On the off side looking to play more on the back foot. Doesn't seem to play the sweep shot.
Uput Tharanga
Pace:- Plays from within the crease, can bowl fuller length angling across.
Spin:- Scaring areas – Looks to play in the front of wkt (From covrs to mid wicket). Likes to come down the track. Doesn't fancy the sweep.
Kusal Mendis
Pace:- Covers the stumps. Back of length straighter lines, he loves to drive on the rise through covers. Compulsive pullers.
Spin:- Compulsive sweeper/slog sweep (From square to mid wkt). Likes to come down the track.
Angelo Mathews
Pace: Back of length 4th stump line (Plays from within the crease) very strong off his legs. Short ball is a good option.
Spin:- Uncomfortable against RAOS with backward and forward short leg. Release shot coming down the track.
Niroshan Dickwella
Pace: Back of length, angling across. Short ball with a leg gully.
Spin: Plays sweep & reverse sweep.
Asela Gunaratne
Pace: Length ball coming in, LBW candidate.
Spin: Favors off side, plays sweep & reverse sweep. Uncomfortable playing middle & leg line.
Dhananjaya De Silva
Pace:- Hard lengths- 4th stump line, very strong of his legs. Compulsive hooker/ puller.
Spin- Loves playing the cut. Consistently steps out to play the lofted shot.
Dilruwan Perera
Pace:- Hard length 4th stump line. Nick off & LBW candidate. Bouncer is a good option.
Spin – Looks to step out, scoring areas are from long to mid wicket. Plays the sweep & slog sweep.
However, it's not yet clear that the paper was left by mistake or purposely.