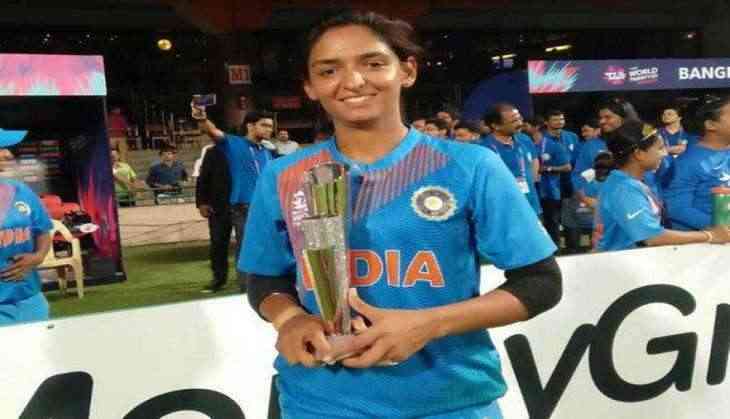 Promotion and felicitations are on the cards for batswoman Harmanpreet Kaur, who hit a scintillating century to help India defeat mighty Australia and enter the final of the ICC Women's World Cup.
The 28-year-old right-handed batter hit an unbeaten 171 off just 115 balls in the semi-final match to knock out the reigning champions from the tournament being played in England.
The Mumbai division of Western Railway (WR), which has employed her, said Kaur has shown extraordinary talent, and therefore, it would recommend to the Railway Board to promote her.
"Certainly, we would recommend her name to the Railway Ministry for promotion. We will also felicitate her when she comes back home," said Ravinder Bhakar, chief PRO of WR, on Saturday.
Kaur is currently employed as Chief Office Superintendent in Mumbai, he said.
"Whenever, our players show excellence or perform outstandingly in international events, we recommend their names for promotion," he said.
A senior official of Central Railway, Sunil Udasi, said the state-run transport undertaking takes a good care of its players and provides them proper training.
Udasi, who heads the committee that selects members of Railways' women cricket team, said the PSU has always promoted women.
"Railways women cricketers have always been in the forefront and the current national team is no exception. As many as 10 players from the current 15-member team (taking part in the World Cup) are from Railways.
"This is due to the robust domestic schedule and facilities such as 330 days special leave for dedicated training being provided by the Railway Sports Promotion Board (RSPB)," he said.
Udasi, who is also chief PRO of Central Railway, said the RSPB has undertaken various initiatives to impart regular training to players and prepare them for international events.
Apart from Kaur, members from the current national team like skipper Mithali Raj, Ekta Bisht, Punam Raut, Veda Krishnamurthy, Poonam Yadav, Sushma Devi, Mona Mesharm, Rajeshwari Gayakwad and Nuzhat Parween are from Railways, he said.
-PTI