Rohan Raj
| Updated on: 13 February 2017, 3:21 IST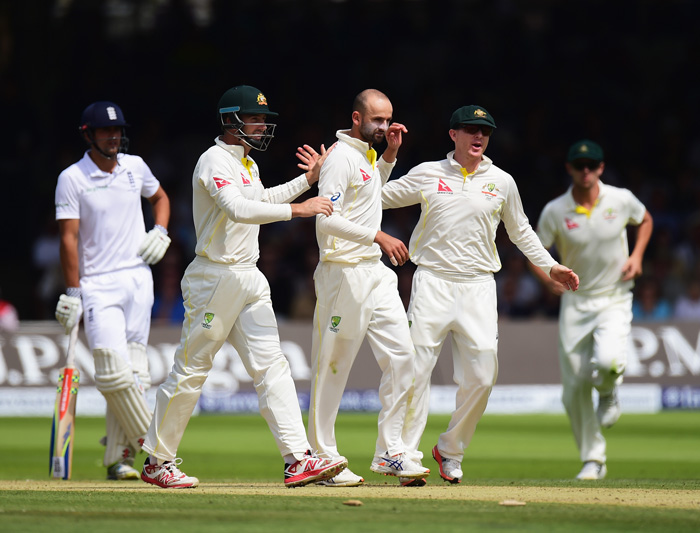 After ending the second day of play at a mediocre 85/4, England knew they had to bounce back on the third day against Australia if they intended to make a match out of the 2nd Test at Lord's. Skipper Alastair Cook (96) led from the front as England were bowled out for 312 runs in their first innings to hand Australia a lead of 254 runs.
Cook stitched a crucial 145-run partnership with Ben Stokes (87) for the fifth wicket that saw England get past 150-run mark without losing any wickets. However, Mitchell Marsh struck in the 55th over to send Stokes back in the hut, leaving the hosts struggling at 175/5.
Jos Buttler (13) was looking to provide support to his skipper, when Michael Clarke's decision to bring Nathan Lyon into the attack turned out to be his nemesis. Lyon got Buttler out caught behind by debutant Peter Nevill - who took his third catch in Test cricket.
Cook, who was dropped on 63 by Steven Smith, missed out on his hundred after getting bowled by Mitchell Marsh in the 79th over. Moeen Ali (39) was soon undone by Josh Hazlewood as England lost their last recognizable batting pair while chasing Australia's mammoth total of 566 runs.
England tailender Mark Wood was bowled by Hazlewood in his next over with the hosts requiring 61 runs to avoid follow on. The pair of James Anderson (6*) and Stuart Broad (21) could only add six runs before Johnson struck to put England out of their misery.
The hosts trail by 254 runs as Australian openers Chris Rogers and David Warner came out to start the second innings for the tourists.
Fall of wickets on Day 3:
54.1 overs: Mitchell Marsh bowled Ben Stokes (87) on a pitched up delivery. Stokes was looking to drive but got an inside-edge back onto the stumps.
65.1 overs: Nathan Lyon got Jos Buttler (13) out caught by the wicket-keeper. Buttler was looking to dab it towards the off side but got a thin edge that went straight into the hands of Peter Nevill behind the stumps.
78.2 overs: Mitchell Marsh bowled Alastair Cook (96) on a fuller delivery. Cook was lured into the drive only to get an inside-edge that went on to rattle the leg stump.
85.4 overs: Josh Hazlewood got Moeen Ali out lbw on a straighter delivery. Ali was struck on his knee roll and trapped right in front of the stumps.
87.5 overs: Josh Hazlewood bowled mark Wood (4) on a pitched up delivery. Wood was late in his drive as the ball nipped back in sharply to rattle the off-stump.
90.1 overs: Mitchell Johnson got Stuart Broad (21) out caught at first slip. Broad was went for the drive away from his body and got a thick outside edge that went straight into the hands of Shaun Marsh (sub) who took it comfortably.
Day 2 review:
After a run-fest on the first day, Australia continued to dominate against England and declared their first innings at an imposing 566/8. Despite losing Chris Rogers (173) early in the day, Steven Smith (215) carried on his fine form and notched up his maiden double-hundred for Australia. The much-hyped debutant Peter Nevill also came to the party with a valuable contribution of 45 runs in his first-ever international match.
For England, Stuart Broad (4/83) and Joe Root (2/55) were the pick of the dispirited England bowlers. After a splendid performance by their batsmen, Australia found adequate support in their bowling attack to reduce the hosts to 30/4 before a slight recovery took them to 85/4 at the end of Day 2.
Mitchell Starc dismissed Adam Lyth (0) on the second ball of the England innings to give an early breakthrough to Australia. Mitchell Johnson soon got his name in the wicket-takers list after dismissing Gary Ballance (23) in the ninth over. Ian Bell's nightmare continued for England as the right-hander was dismissed for a mere one run by Josh Hazlewood in the next over. Johnson struck again to get rid of the dangerous Joe Root (1), leaving the hosts reeling under pressure. Skipper Alastair Cook (21*) and Ben Stokes (38*) managed to stitch a partnership and helped England close play without losing more wickets.
Day 1 review:
Australian batsmen couldn't have answered their critics in any better manner than the way they did on the opening day of the second Test at Lord's. After deciding to bat first, Australia got off to a sturdy start as their openers Chris Rogers and David Warner added 78 runs in 15 overs. Though Moeen Ali provided the breakthrough to England, the hosts were in for a really long day. Rogers (158*) and Steven Smith (129*) teared into the opposition bowlers to record a partnership of 259 runs on the opening day.
The duo broke the previous second-wicket record of 231 runs put up by the Australian pair of Don Bradman and Bill Woodfull at Lord's in 1930. Smith and Rogers happily exploited the sluggish pace on a flat and lifeless pitch. The barrage of runs will surely boost the Australian fans who would be expecting to see their team make a comeback in the Ashes series after their loss in Cardiff earlier.