Reliance Jio-Airtel-Vodafone war: Which company is lying to you?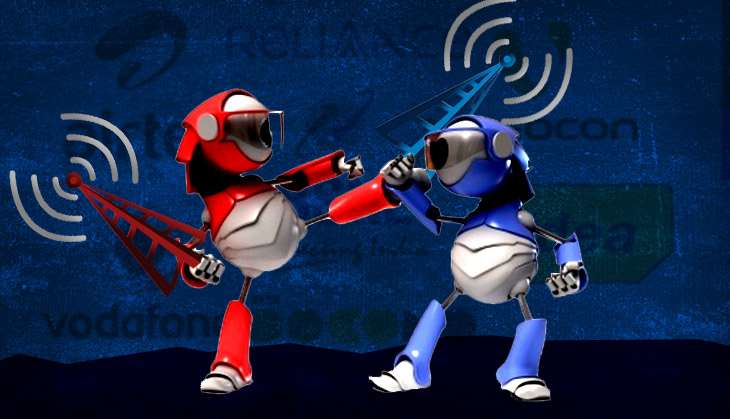 With the launch of Reliance Jio's 4G services in the country, a guerrilla war has begun between established players like Airtel and Vodafone and the new challenger.
And in true guerrilla warfare style, no side is coming out in the open to attack its competitors. All attacks are being carried out in the form of off-the-record communications.
From Monday, 5 September, Jio claims that it's offering free voice calls to customers, with the lowest data rates in the world, starting at Rs 50 per GB. The plans start at Rs 19 and with free voice calling.
These kind of claims have rattled existing services providers like Airtel, Idea and Vodafone, with their customer care centres getting thousands of calls from the public, seeking similar tariffs and threatening to shift to Reliance Jio otherwise.
The established players are trying to explain to their customers that the plans offered by Reliance Jio are "bogus", and actually have a lot of fine print which has not been disclosed.
What Airtel says
Here's what the country's No.1 telecom company, Bharti Airtel, has been telling its customers:
In case of poor network, where 4G network is not available, there would simply be no network on Reliance Jio, as unlike other companies, Reliance Jio does not have 2G or 3G networks.
It works only on 4G handsets. It would be costly for customers to buy 4G handsets.
Only limited 4G coverage (there will be issues on highways and in rural areas)
Free benefits available on Jio are applicable only for one registered handset. Benefits cannot be carried over if the customer switches his or her handset.
What Vodafone says
Vodafone, the second largest telecom company in India, is trying to dissuade its customers from switching Jio with the following Q&A list:
Jio is offering data at Rs 50/GB. When will Vodafone launch these offers?
Dear Sir/Ma'am, I would like to inform you that there is no such plan as Rs 50/GB offered by Jio. The lowest rate that Jio is offering is Rs 67/GB, that too at a monthly rental/plan of Rs 499.
Jio is offering voice calls for free, with superior data speeds on 4G...
Dear Sir/Ma'am, you do need to pay for a data plan to use free calls on Jio. Also, please note that with Jio
1. The voice call works only if you have 4G data coverage. Jio does not have a fallback option. This means, in places where there is no 4G coverage, you would not be able to make any calls with a Jio connection.
2. You need to have a 4G handset that supports VoLTE to be able to make voice calls. Whereas with Vodafone, in case 4G network is weak or not available in a place, you will still enjoy the services on 3G/2G network. Also, our network supports all devices. We would also like to inform that voice services for Jio are experiencing high congestion, and since you are a high value customer, this will impact your business. With Vodafone, you will always get reliable & risk-free voice calls & superior data speeds.
With Jio, I can save a lot of money!
For using Jio services, you need to buy a 4G compatible handset, which is very costly. Also, if you use your mobile services for voice, you need to spend a minimum of Rs 150 for using voice services, which is very expensive. If you use your mobile services for data, then you need to spend a minimum of Rs 500.
What Reliance Jio says
Reliance Jio is also using unofficial communications to lambast the claims made by its rivals:
The company has set up the biggest telecom infrastructure in the country, having laid 2.6 lakh kilometres of optic fibre, which covers two lakh villages in the country. Airtel and Vodafone may not be sure of their network strength, but we are sure that wherever our customers go, our 4G network would not fail them.
Voice calls are free for everybody, irrespective of whether he or she uses a Rs 149 plan or a Rs 499 plan. Unlike Airtel, which provides free voice calls only to customers using the Rs 1,498 plan. We want everyone in India to enjoy unlimited voice calls.
Our SIMs are compatible with all 4G smartphones. There are enough 4G compatible handsets available in the market, and it is a propaganda that to use Jio services, you need to buy some specific Reliance Jio phone.
In the 499 plan that we are offering, we are providing four GB of personal 4G data and eight GB of Wi-Fi data, which can be used in Reliance Jio Wi-Fi zones. Most people use their phones on the go. We are in the process of creating Wi-Fi zones all over the country. All important places in all cities will have free Wi-Fi zones, and Reliance customers will be able to use eight GB of data per month in these zones.
Separating propaganda from reality
1. It is true that incumbent companies rely on three types of networks - 2G, 3G and 4G - to provide services to their customers. So, in places where 3G or 4G signals are not strong, these companies switch their customers to other networks. On the other hand, Reliance Jio only has a 4G network at its disposal.
This means it is quite possible that if you are travelling in an underground Metro or are in a basement, there would not be any network to make calls. But Reliance Jio's claim is also valid - that it has created the biggest infrastructure of optic fibre in the country, which can ensure that 4G network is available even in your basement.
One will have to wait for the customer experience of using Reliance Jio services in underground metros and basements to realise whose claims are right.
2. Free voice calls are actually free for all Reliance Jio customers, and all other companies will have to come up with the same tariffs to match this. Unlike other developed countries, Indians still use more voice calls to communicate, and Reliance Jio's offer reminds us of the year 2002, when Reliance Infocomm had killed the concept of charging for incoming calls.
3. Free Wi-Fi hotspots is a futuristic idea. It is a fact that most of us use our phones while travelling, and having a 4G enabled free Wi-Fi zone in Connaught Place in Delhi or Bandra Bandstand in Mumbai would be appreciated by all. Rival companies, too, will have to think on the same lines.
Conclusion
All in all, the tariffs announced by Reliance Jio are actually better than other companies. But in the end, it is not just about tariffs.
In 2002, when Reliance Infocomm had launched its services at dirt cheap prices, the company attracted a lot of customers in the first six months, but lost their interest soon after. People then went back to their old service providers.
And it all had happened because Reliance Infocomm's network was no match for Airtel and Vodafone's.
But if the Ambanis have learnt their lessons from the past, the existing market leaders are in for a serious challenge.
Edited by Shreyas Sharma
More in Catch
Mukesh Ambani declares war with Reliance Jio's super cheap data rates
Reliance Jio Vs Airtel: How a 2002 conference haunts Mukesh Ambani
How Airtel, Vodafone, Idea Cellular are working to counter the Reliance Jio effect