#NotesForMrJaitley 10: reduce your expectations from disinvestment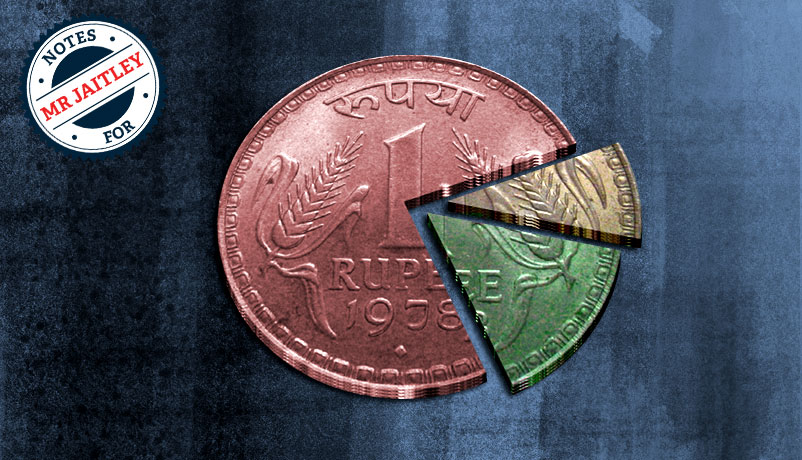 The Budget for 2016-17 is around the corner and all eyes are now on Finance Minister Arun Jaitley. Should the government spend more, or keep its wallet shut? The global economy wades through crashing commodity prices and unsure policy moves and shaky investors. In the midst of this India has to decide which course to take, to ensure jobs to millions of youth joining the workforce every year. We at Catch bring you a series with a focus on all sections of the population and their requirements from Mr Jaitley's Budget.
---
Arun Jaitley often speaks of fiscal prudence. And when he presents the Union Budget 2016 on Monday, 29 February, policymakers will be keeping an eye to see whether he practises what he preaches, and cuts expenditure and increases tax to rein in the fiscal deficit.
Last year, Jaitley had hoped to increase the disinvestment in Public Sector Undertakings (PSUs) by more than 100%, to achieve the fiscal deficit target of 3.9%.
But this target has not been met - not by a long shot.
In our latest #NotesForMrJaitley, we examine the state of PSU disinvestment in India.
rupees
The amount Jaitley hoped to raise through disinvestment in PSUs.
This figure is 10 times more than what the government gives to the Ministry of Drinking Water and Sanitation.
In India, there are a total of 290 central PSUs, as of January 2016. Of these, only 47 are listed on the Bombay Stock Exchange.
According to the BSE, disinvestment 'typically refers to sale from the government, partly or fully, of a government-owned enterprise. A government organisation will disinvest an asset either as a strategic move for the company, or for raising resources to meet general/specific needs'.
As per the government's 'disinvestment policy', reducing financial burden, improving public finances, and funding growth are a few of the objectives.
rupees
Government money that is locked up in PSUs.
This amount is almost equal to the total estimated service tax that the government will collect in 2015-16.
This is why disinvestment is of prime importance to combat the rising fiscal deficit, fund infrastructure projects, to pay off public debt and allocate money to important social sectors.
Additionally, in the past few years, there have been increases in subsidies, plan expenditure and the defence budget as against incomes. Hence, disinvestment is a necessity.
The share of increase in disinvestment earnings that Jaitley projected in his announcements during Budget 2015, as against the revised estimates of 2014-15.
It is a daunting task, given India's track record. As per estimates, Rs 41,000 crore was expected from the sale of profitable PSUs, and Rs 28,500 crore from sick PSUs.
In 2013-14, the estimate was Rs 55,814 crore, but only Rs 25,841 crore was realised.
In 2014-15, the estimate was Rs 63,425 crore, but only Rs 31,350 crore was achieved.
PSU disinvestment steadily increased from 2009-10 to 2010-11, and then plummeted in 2011-12. The total increase from 2009-10 to 2013-14 has been meagre 5%, and, so it was a risky bet to expect PSU disinvestment to increase by more than 100% this year.
rupees
The amount that has been earned till now through disinvestment in PSUs.
Last week, the government decided to sell up to a 5% stake in the National Thermal Power Corporation, aiming to earn Rs 5,000 crore.
The best-case scenario is that the government will achieve one-fourth of its target.
According to various statements made by Jaitley and Minister of State, Finance, Jayant Sinha, this low achievement is essentially due to a fall in global commodity prices.
According to Jaitley, the shortfall will not impact the fiscal deficit target.
ASSOCHAM estimates that this year, the disinvestment target will be much lower.
rupees
The total fiscal deficit as of 2015-16.
Disinvestment earnings will contribute little to bridging this gap between expenditure and receipt.
Interest payments, net tax collection, subsidies and defence budget are other factors that affect the fiscal deficit.
Options for Jaitley in this forthcoming budget are - reduce defence expenditure, increase tax collection or reduce non-plan expenditure further. Banking on PSU disinvestment doesn't make sense economically.