Indian economy has bottomed out. Really?
Catch Team
| Updated on: 25 November 2017, 22:19 IST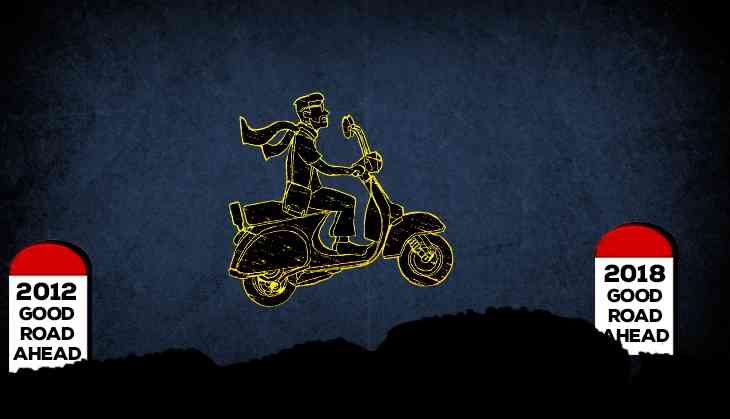 Has the Indian economy bottomed out? No economist government official or financial commentator knows the answer to this question, yet everyone keeps repeating it year after year to show some sort of silver lining in a dark cloud.
In fact, this has been the trend at least since 2012, where economists, bureaucrats, and ministers made sweeping statements to convince investors and stakeholders that the worst is over in the Indian economy.
Worryingly, general as well as financial newspapers and magazines pick up these statements without raising any doubts over the credibility of such forecasts.
These kinds of sweeping forecasts without any sound reasons and analysis are usually made to keep the sentiment of investors strong. Those who make such forecasts manage to achieve their short-term goal of keeping the market sentiments up, but the cost of such misleading statements is paid by investors who make an investment in the Indian economy through share markets or foreign direct investments.
We did a basic research on some of the news coverage by different news organizations that carried the word " bottomed out" in their headlines.
Let's us start with the latest report released by Dun & Bradstreet, that was carried out on 23 November 2017 by Times of India with a headline "Eco slowdown bottomed out, recovery rests on govt steps: Report".
The report quotes Arun Singh, lead economist of the organisation on how things are looking up.
"There has been improvement on some parameters in the recent period, and we hope that the rebound in industrial production, especially in capital goods, is not just driven by festive-led demand and is on a sustainable basis," said Arun Singh
Quite possible that the report was prepared after the credit rating agency Moody's gave a thumbs up to India by upgrading its sovereign rating and the agency feels that the coming days can only be good for the economy.
However, just two months ago, the vice chairman of government think-tank Niti Ayog gave a leg up to the Indian economy with a statement that Economic Slowdown has bottomed out. The story was published by Hindustan Times with headline " India's economic slowdown has bottomed out: NITI vice-chairman Rajiv Kumar"
The newspaper carried a copy from IANS newswire quoting him as saying
"The vice chairman of the government's premier think-tank added that pain due to demonetisation and the rollout of Goods and Services Tax (GST) was also almost over. He said that all countries which adopted GST have gone through some decline in the growth rate."
Since Kumar is the vice-chairman of a top-notch government think tank, one wants to believe in what he says. But if the things are looking up now, why did Mint newspaper carried a story with Asian Development Bank's (ADB) statement back in April 2014 arguing that the economy has begun bottoming out, even though the story was on the multilateral bank trimming India's 2014-15 growth forecast to 5.5% from its earlier estimate of 5.7%?
The newspaper said – "In its Asian Development Outlook, the Manila-based multilateral lending agency said the Indian economy has bottomed out in the last fiscal year, but the economy will not reach its potential until remaining structural bottlenecks are overcome."
ADB was not alone in feeling that the Indian economy had bottomed out in 2014.
Famous economist and former head of prime minister's economic advisory council C Rangarajan also made a similar statement that year.
"India's economic growth rate in the current fiscal has been estimated at 4.9% ent. This is an encouraging news. (It implies) the growth in second quarter of current fiscal has been more than 5 per cent. This indicates that slowdown has been bottomed out," Rangarajan told news agency PTI.
Now we know that the Indian economy has not bottomed out since 2014, when ADB and Rangarajan felt that it has happened.
But, let's go back further in the past.
In 2013, the same newspaper had carried a story quoting International Monetary Fund (IMF) with a headline "IMF: Indian economy has bottomed out".
The first paragraph of the story published on 16 April 2013 read –
"The International Monetary Fund (IMF) said on Tuesday that growth in the Indian economy had bottomed out and would recover on the back of improved external demand and recent policy moves by the Indian government."
Remember, in the year 2013 there was no Modi mojo that many high profile economists like to quote when they talk about the great reforms the government is taking since his coming to power. 2013 was the terminal year of the Manmohan Singh government struggling to keep afloat at a time when 'Policy Paralysis' was the catchphrase that described Indian economy.
So now we know that Indian economy has bee bottoming out since 2013.
But how about going back a little more?
The year 2012, none other than Montek Singh Ahluwalia, the then vice chairman of the Planning Commission and one of the most popular economists of UPA regime had said "In the first quarter of this financial year, GDP growth was 5.5%, while in last quarter of last financial year it was 5.3%, so it can be said that deceleration in growth has bottomed out". The story was carried by all prominent publications in India. Businesstoday.in had a story on this.
What does this simple research on the statements made by organisations and economists on the Indian economy over the past 5 years reveal?
It shows that some of the biggest institutions and most reputed economists are wrong in telling us the future of Indian economy. It could be some vested interests or lack of research and effort on their part that makes them make statements that prove to be incorrect.
The fact of the matter is that the Indian economy has been struggling since 2008 financial crisis, like the rest of the world. But since India is part of the emerging markets, economists, as well as institutions, have a reason to not tell us the truth. Imagine every time a stock market crashes more than 400 points in a day how much money is lost by investors.
Imagine the fate of those investors who invested in India's infrastructure and real estate projects calculating India's growth story to be above 8%. All of them have lost their money. Unfortunately, neither those who give such unqualified statements on the Indian economy nor those who publish them understand their responsibility.
This is why, if you are an investor, do not trust such statements. Go by the real data from various sectors yourself. Indian economists and media cannot be trusted.