IBM designs world's smallest computer with a blockchain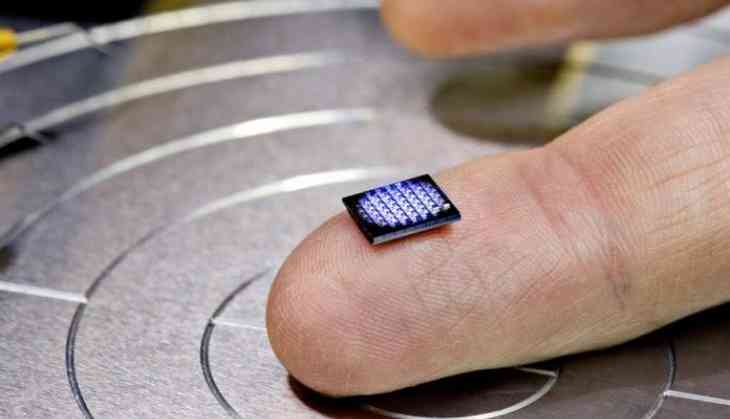 IBM has launched the world's smallest computer which is as small as a grain of salt, measures 1 x 1 mm. IBM launched the tiny comupter at IBM Think 2018 Conference which started on March 19. IBM wrote in a blog post, the "world's smallest computer" comprises of a million transistors and is an outcome of the company's "Crypto Anchor" program.

The world's smalled computer can pack several hundred thousand transistors into a footprint barely visible to the human eye and can help verify that a product has been handled properly throughout its long journey.

According to Mashable reports, the computing power is equivalent to an x86 chip. The tiny computer can work like a boss and has 1 million transistors. It is capable of communicating, analysing, monitoring and even acting on data. As mentioned above, the total cost of making this computer is as cheap as 10 cents, IBM intends to make more computers like these, it won't be a difficult task to make these computer popular worldwide.
Also Read: Garuda Indonesia to start Mumbai-Bali non-stop flights
The onset cryptographic anchors is just the beginning, within next five years these anchors- such as ink dots or tiny computers smaller than a grain of salt — will be embedded in everyday objects and devices," said Arvind Krishna, the head of research for IBM.

IBM researchers are developing crypto-anchors, tamper-proof digital fingerprints, to be embedded into products, or parts of products, and linked to the blockchain. These fingerprints can take many forms such as tiny computers or optical codes, but when they are tied to a blockchain, they represent a powerful means of proving a product's authenticity. Cryptographic anchors and blockchain technology will ensure a product's authenticity -- from its point of origin to the hands of the customer.


Also Read: Cambridge Analytica scandal: legitimate researchers using Facebook data could be collateral damage