Currency ban: lack of cash makes traders and labourers suffer
On the first day of its implementation, the Narendra Modi government's ban on Rs 500 and Rs 1000 currency notes saw small traders and labourers losing a significant amount of work, as almost no transactions could take place.
In the national capital, traders sat listlessly in Sadar Bazaar - which, with 40,000 traders, is often described as Asia's largest wholesale market.
Because of the surprise move announced by PM Modi after close of business hours on 8 November, neither the traders, nor their suppliers, nor the customers, had enough Rs 100 notes to carry out business as usual. The pressure was also felt by daily wage labourers, who usually unload goods from cargo vehicles and tow them to warehouses or shops.
Support for the move, with a caveat
Traders have been loyal voters of the Bharatiya Janata Party. As such, many traders lauded the move as an antidote for terrorism and rising corruption. But at the same time, they complained that their businesses were suffering - in some cases, this would be permanent.
The Federation of Sadar Bazaar Traders Associations, which represents 91 trader groups working in the bazaar, called a meeting of its members in the afternoon to take stock of the situation. At the meeting, many members said they had yet to do bohni (first transaction of the day), and had turned away many customers, as they did not carry enough Rs 100 notes.
Almost none of the shops in Sadar Bazaar have debit or credit card machines.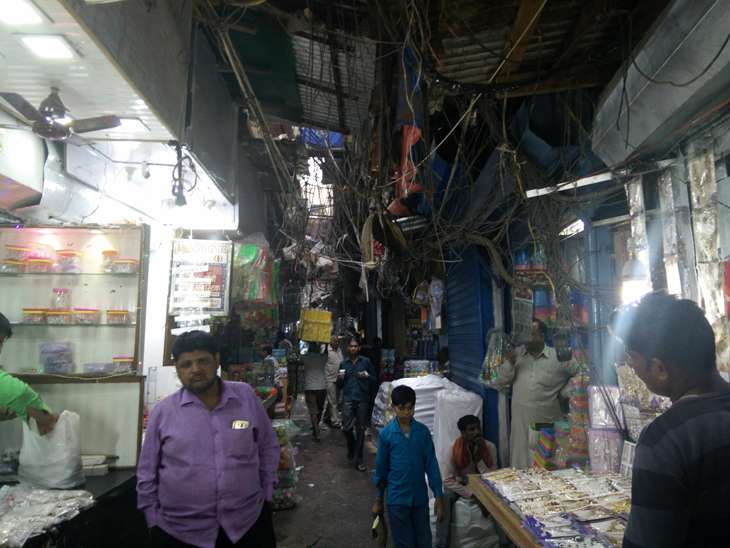 Traders in Sadar Bazaar could be seen struggling for business. (Photo: Nihar Gokhale/Catch News)
The traders also said that they had hired just half the number of daily wage labourers, and would have to continue to do so till the cash situation came back to normal. The federation asked its members to write to the government about their concerns.
"Most of the transactions take place in cash, and using notes of Rs 500 and Rs 1000. We support the move, as it targets terrorism, also but it has affected our businesses," said Devraj Baweja, a member of the group.
In the streets of the bazaar, labourers had little work and were seen waiting for work even at 1 pm. "Sunsaan hai aaj (the street looks dead)," said Mangu Ram, a labourer, who has been working at the market for a year. He usually gets work unloading one of the hundreds of types goods sold at the bazaar, from toys to tools.
Permanent impact on Dariba Kalan
Similar echoes were felt in Dariba Kalan, a street known for its jewellery shops. Here, traders estimate that the impact of the government's decision will be permanent.
Many shops sell gold and silver ornaments against cash, and without receipt. The traders claimed, on the condition of anonymity, that at least 50% of the market's turnover was in black money. That's how much the market will shrink.
One jeweller, who is a member of the traders' group Dariba Vyapar Mandal, said that of the 600 shops in Dariba Kalan, no more than 200 were registered as taxpayers.
He expects several traders to shut shop as a result of the government's decision. Registration as taxpayers will also further reduce demand, as it means that customers would be charged value added tax, raising the price of ornaments.
Several traders were seen engrossed in worried conversations about the possibility of defaulted payments due to the impending collapse in the gold market.
"For 66 years, you [those with a salary] suffered because of tax evasion. Now it is our turn to suffer," said the traders' group member. "At least now, we will have cleaner transactions and more tax collection. Maybe this road will improve."
Edited by Shreyas Sharma
More in Catch
Rs 500 & 1000 notes scrapped: how the move will impact you and the economy
Currency ban will aid the market & the economy feel stock brokers
Cash in your wallet? Know how the currency ban will affect you