Companies offer to register cars outside Delhi to bypass SC diesel ban
Catch Team
| Updated on: 10 February 2017, 1:49 IST
Sales executives employed with top luxury car makers have found a novel way of subverting the Supreme Court order banning the sale of diesel vehicles with engine displacement capacity of 2000 cc or more. In case you want an expensive sedan or an SUV, which you can't buy in Delhi because of the SC order, these executives offer to get the cars registered in Uttarakhand or Uttar Pradesh.
Read: India has worse polluted cities than Delhi, and you probably wouldn't know
The ban on sales of big cars was part of a slew of measures that the apex court laid down in December, following suggestions by National Green Tribunal to curb pollution in the Capital.
Industry insiders say dealers are resorting to such a practice to offset losses they incur because of the ban. Most luxury car models have engines that displace more than 2000 cc and companies such as Mercedes-Benz India are are contesting the apex court order. Mercedes is the worst hit of the lot as the top-selling models of Audi and BMW have engines less than 2000 cc.
When Catch enquired about purchasing a Discovery Sport, a fairly new model by the Tata-ownedJaguar Land Rover, a sales executive at the AMP Motors, a dealership at Delhi's Mohan Estate, said over the phone that while it was not possible to get the vehicle registered in Delhi, one could get a "friend or a relative who lives in Uttarakhand or in any place not in the NCR (National Capital Region) to help with the registration".
Not only will that ensure you get to drive the vehicle in Delhi, since there was no ban on driving, but also save some money, the executive said. "Registration fee in Uttarakhand is just 8%," he pointed. The same could go up to15% in Delhi for such vehicles if they were not banned. "All it would take is a rent agreement," he explained as he coaxed for a test-drive of the expensive SUV, which sports a 2200 cc diesel engine.
"Depending on the colour you choose, we shall let you know how many days you need to wait till the car is delivered. "You will end up saving more than Rs 2 lakh if the registration is done in Uttarakhand," the executive explained.
Even before the ban, a lot of luxury car reportedly got their cars registered in the hill state due to the lower tax -- it used to be just 5% till last year before it was hiked to the current 8%.
The executive at the Deutsche Motoren in Delhi, which sells the German BMWs, went a step further. He offered to "get the necessary paper work done" to ensure the registration is smooth. "You need not worry. We will take care of it," he claimed as he explained how it was not a difficult exercise.
While it is mandatory to get the vehicle registered at the place of residence, that rule is rarely followed.
"We will take care of the rent agreement if you can't find anyone who is willing to help you out with a local address in Uttarakhand or Agra," he says.
When Catch asked him if one actually needs to rent a place in Uttarakhand to get the rent agreement, his prompt repy was "No!".
The sales executive was asked about the 5 Series Sedan which sports a 3-litre diesel engine, banned for sale in the NCR. "We will negotiate the final price after discounts once you make up your mind," the executive said.
Also read: SC upholds diesel ban but gives breathing space to BPO industry
A BMW spokesperson did not respond to an email enquiring about the sales numbers of diesel vehicles with engines of 2000 cc or more by its dealers in Delhi and how many such vehicles have been registered in Uttarakhand.
Meanwhile, Society of Indian Automobile Manufacturers (SIAM) claimed the Supreme Court decision is hurting employment. "... Production loss due to the ban of these vehicles in NCR from 16 December, 2015-30 April, 2016 has resulted in 11,000 vehicles, which translates to impact on approximately 5,000 jobs in the industry," SIAM submitted to the SC.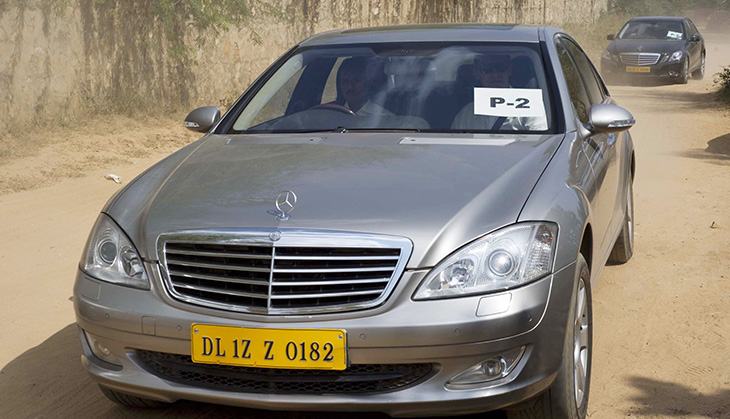 Simon de Trey-White/Getty Images
While manufacturers like Mahindra and Mahindra have found out ways of working with the ban, by decreasing the displacement of their engines to 1999 cc, other like Toyota Kirloskar Motors have complained that the order of the court erodes investors' confidence in India.
"Toyota Motors' confidence in India has taken a big knock after the Supreme Court ban since mid-December last on sale of high-end diesel cars and SUVs, and the continuing uncertainty... is only adding to it. But it is our job at Toyota Kirloskar Motors to reinstate that confidence," TKM Vice-Chairman Shekhar Vishwanathan was quoted saying.
But whatever the carmakers might say, the fact remains that the Supreme Court ban on big cars has been reduced to a joke.
Edited by Aditya Menon
More in Catch:
Exit polls: Assam to BJP, Bengal to Mamata, TN can go either way
Can't digest this: after wearable tech, it's time for swallowables
Panama Papers name big shots in top Indian newspapers
Uttarakhand: CBI in a fix over probe into Harish Rawat sting