6 Budget takeaways for education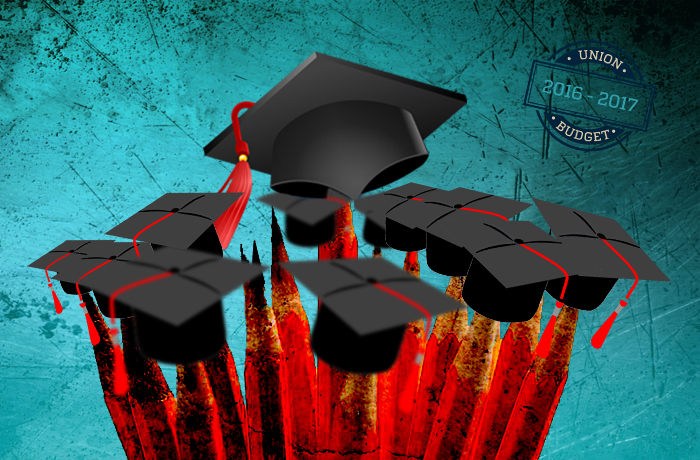 Education has been among the flashpoints in Narendra Modi's regime. And it figured as one the "nine pillars" of Arun Jaitley's Budget.
The two keywords that defined this year's education budget: 'skill' and 'research'.
They key takeaway: the government is keen to keep the focus on higher education at the cost of primary and secondary education.
Flashback to a year ago: Arun Jaitlet's previous Budget had cut overall allocation for the sector but pumped up funds for higher education by some 22%.
Read: #Budget2016 gives a sense of deja vu
That strain remained in Monday's Budget - the focus remained on higher education amid ambitious drives such as 'Make in India' and 'Digital India'.
Here are five key takeaways:
1. 'World Class' Indian institutions
Ten public and 10 private educational institutions to be made "world-class".
Budget excerpt:
"It is our commitment to empower Higher Educational Institutions to help them become world class teaching and research institutions. An enabling regulatory architecture will be provided to ten public and ten private institutions to emerge as world-class Teaching and Research Institutions. This will enhance affordable access to high quality education for ordinary Indians. A detailed scheme will be formulated"
The move will give a meatier role to the private sector in education.
But the Finance Minister said nothing about 330 state universities and 35,829 colleges. They cater to the more than 90% of students and are in a deteriorating condition.
Reminder: Indian hardly figures in the world's top-500 universities list.
Central varsities are replete with low academic rigour, lack of teaching staff, ad-hocism among faculty, etc.
State universities suffer from poor governance, corruption and fund crunch, leading to low standards.
A major boost was needed to reform and invigorate the dull and dying space of state public universities.
2. Increased financing for higher education
Rs 1,000 crore to be set aside for higher education financing
"We have decided to set up a Higher Education Financing Agency (HEFA) with an initial capital base of Rs 1,000 crore. The HEFA will be a not-for-profit organisation that will leverage funds from the market and supplement them with donations and CSR funds. These funds will be used to finance improvement in infrastructure in our top institutions and will be serviced through internal accruals."
This will open up the public university space to market forces. It may infuse fresh energy into the system, but the issue of commercialisation of higher education will always be there at the back of the mind.
At the outset, HEFA will be instrumental in dealing with the mounting issue of student's loans.
Also read- #Budget2016: Jaitley has set lofty targets, but can he achieve them?
3. Sarva Shiksha Abhiyan and primary education
62 new Navodaya Vidyalayas
"After universalisation of primary education throughout the country, we want to take the next big step forward by focusing on the quality of education. An increasing share of allocation under Sarva Shiksha Abhiyan will be allocated for this. Further, 62 new Navodaya Vidyalayas will be opened in the remaining uncovered districts over the next two years."
Universalisation of primary education is welcome. But it should be contrasted with India's high dropout rate. Poor quality of teaching in government schools leads to low student retainment. While the Gross Enrollment Ratio at primary-school level is high (over 101%), almost a third dropout by Class 8.
Factors that need attention: quality of education, high pupil retainment value and quality of teaching staff.
The budget couldn't do much on dwindling policy initiatives such as the Right To Education, Rashtriya Madhyamik Shiksha Abhiyan (RMSA) and Rashitriya Uchchatar Shiksha Abhiyan (RUSA).
More funds to the flagship Sarva Shiksha Abhiyan, which funds new schools, was welcome. Flashback: The previous Budget cut allocation for, by 22.14%. The impact: 6 lakh teaching vacancies. Only 63% of government schools have a pupil-teacher ratio as per the RTE norm (30:1 primary, 35:1 upper primary).
4. Digitalisation drive
A digital literacy scheme to be launched to cover six crore additional rural households
"We need to spread digital literacy in rural India. Of 16.8 crore rural households as many as 12 crore households do not have computers and are unlikely to have digitally literate persons. We have already approved two Schemes to promote digital literacy: National Digital Literacy Mission; and Digital Saksharta Abhiyan (DISHA). We now plan to launch a new Digital Literacy Mission Scheme for rural India to cover around six crore additional households within the next three years. Details of this scheme will be spelt out separately."
5. A digital depository of certification
"To help students, Higher Education Institutions and Employers to access degree certificates of candidates, it is proposed to establish a Digital Depository for School Leaving Certificates, College Degrees, Academic Awards and Mark sheets, on the pattern of a Securities Depository. This will help validate their authenticity, safe storage and easy retrieval."
Read more- Not a suit boot ki sarkar: Govt silences critics with pro-farmer #Budget2016
6. Entrepreneurs all the way
Entrepreneurship training to be provided across schools, colleges and massive online courses
"Entrepreneurship Education and Training will be provided in 2,200 colleges, 300 schools, 500 government ITIs and 50 Vocational Training Centres through Massive Open Online Courses. Aspiring entrepreneurs, particularly those from remote parts of the country, will be connected to mentors and credit markets."
The skewed focus on IITs, IIMs and producing skilled labour ready for the economy that was seen in the previous budget and has been carried forth in the allocation for 2016-17 will ensure that the focus will continue to shift from social sciences to technical education.
More in Catch:
These insane numbers show how influential the Oscars are around the world
In photos: how one scribe feels about JNU after living next to it for four years
An 'anti-national' JNU student's letter to Smriti Irani
View from the ground: Why we may never know truth about Murthal 'rapes'