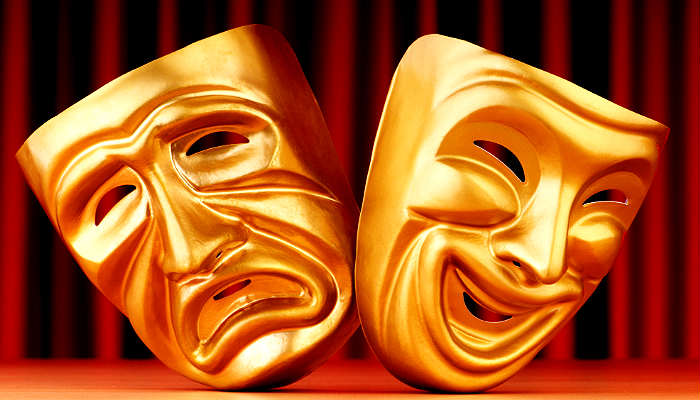 Theatre is a sacred space for actors. You are responsible, you are in the driving-seat -- Greta Scacchi
Theatre in India has taken a back seat. Who is to blame -- the cinema, the actors, the audiences, the government or the society at large who no longer seek entertainment in theatre? To get answers to this question and some more, I went to meet a Delhi-based theatre group which was rehearsing for their upcoming play Khushfahamiyaan at Delhi's India Habitat Centre.
As I reached the place, I saw two of the group members rehearsing for the very last scene and I decided to sit down and watch them rehearse. Amidst their loud voices, I could find peace. Maybe because I could see them transform from their real selves to the characters they were playing. Or maybe because of the script of their play.
I will call them brilliant actors because I needed to watch just one short scene to understand the storyline of their play. And I knew next to nothing about the play before entering the venue.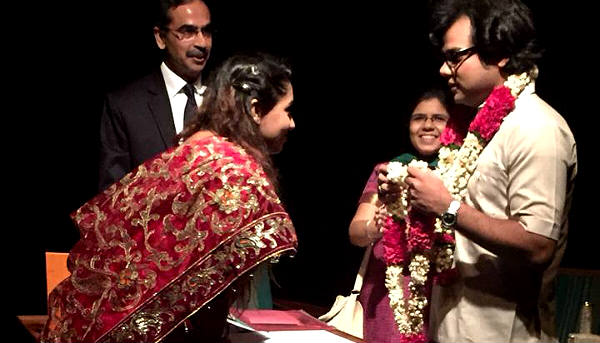 Khushfamaiyaan - the play that is going to be performed today in Akshara Theatre at 5 pm, is a romantic one. As described to me by the play's director and actor Manil Mayank Mishra, Khushfamaiyaan is an extension of Urdu poet Ghalib's eternal couplet "humko maloom hai jannat ki hakeekat lekin...dil ke khush rakhney ko Ghalib ye khayaal achhaa hai."
Once I started asking them questions about their play, I couldn't help but keep the questions going because I wanted to leave with a better insight into the life an actor. And I mean a 'theatre' actor. Some excerpts from our Q&A session:
How do you research the subjects for your plays?
Manil: Our life is our research. We take out stories from our own lives and the lives of our close ones and portray them onstage. Khushfahamiyaan, for example, is an amalgamation of my own love story, some excerpts from Urdu poet Ghalib's work and a few stories from the lives of my friends. And it looks even more beautiful on stage when you know that you have a reference to your character. Also, when you have a poetic heart, which I believe is there in everybody, things on-stage become easier to connect with your audience.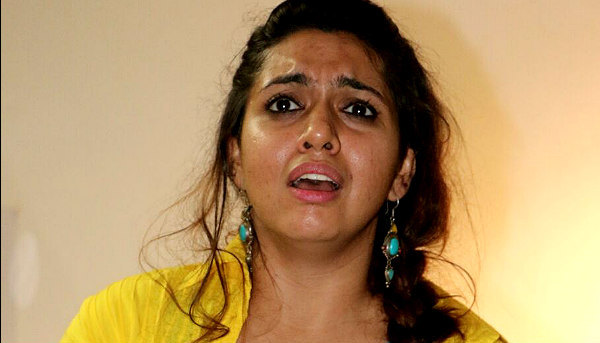 Tell me more about theatre. How suppressed is it in India?
Ambalika (actor): The very basic reason that theatre has taken a back seat is because it doesn't have enough exposure. Moreover, people don't take it as a very common medium of entertainment. Above all, theatre has a very restricted audience. Take Khushfahamiyaan for instance; people will assume from its name what kind of play it is and only then decide whether or not to go see it. Here comes the need for exposure. Media does not write much about the nuances of theatre. And therefore, even an educated person depends on his/her own perception while deciding to see it or not.
How far is a celebrity association necessary for a play to be popular?
Ambalika: A celebrity face can sell a play for once. But, for a play to gain popularity and to increase its reach, it has to be 'liked' by the audiences. Your audience will only come again if you have given them something entertaining or something new and not just for the celebrity presence. The only two things that a play needs to be popular are substance and soul.
What are the stereotypes built around theatre or theatre actors in general?
Milind (actor): The very common one is that people often ask a theatre actor when he/ she is venturing into films. As if the acting is only limited to the celluloid. Another stereotype is that nobody can take up theatre as his/her profession, which is to some extent true because you can't earn your livelihood out of plays. Not in India at least.
Manil: Then, the only form of theatre which is entertaining is comedy. So, even if a play is showing a typical nonsensical comedy, the audience will prefer watching it over other plays showing good, original story.
Also, there is a very common notion that theatre is for 'serious' people; if somebody is searching for options to have a good time somewhere, he/she will never opt to watch a play. People need to understand that even theatre provides entertainment. In fact, it is more lively and real than films.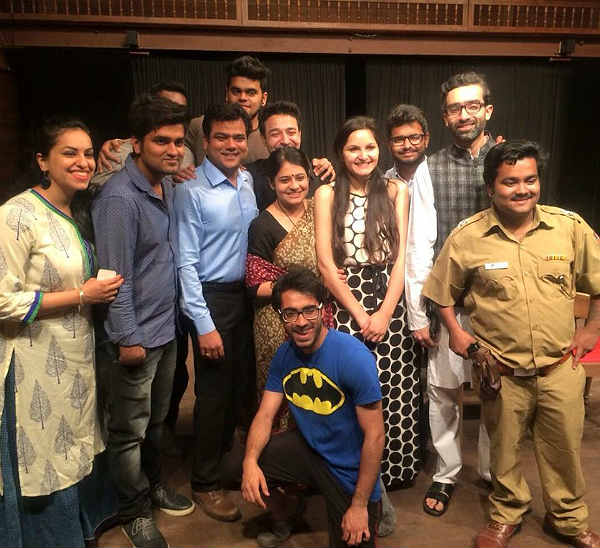 How can we sensitise both the government and the society about theatre?
Manil: First and foremost, I think the government or any higher authority for that matter should understand that theatre is not just a medium to spread social messages. So, there are government bodies and other organisations that support theatre financially but they will ask you to make a play on certain social causes. This limits the range of an actor, a scriptwriter and a director. Why can't theatre be seen in a broader perspective and taken as a medium of entertainment rather than just a medium of creating a social awareness of some kind.
Inderpreet (actor): And for the society at large, I think the only way to sensitise them is to produce and show them different kinds of plays. When you don't serve them what you are capable of offering, how would they get to know that certain things exist. It's our responsibility as theatre artists to introduce people to various aspects of theatre.