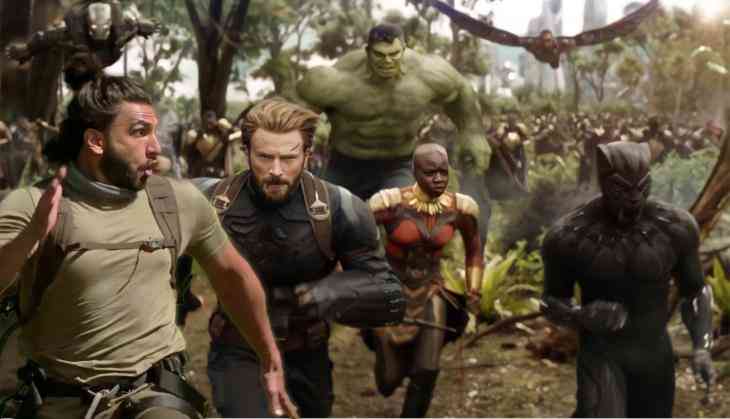 Ranveer vs Wild With Bear Grylls.
Bollywood actor is all set to make his digital debut with Ranveer vs Wild With Bear Grylls. The trailer of the adventure show was aired on 24th June.
While the show premieres on Netflix on 8th July, internet users got their hands full making hysterical memes and jokes online immediately after the trailer launched. Ranveer Singh is the latest Indian super star to feature alongside Bear Grylls.
Produced by Banijay Asia, it is India's first ever interactive adventure reality show. In the trailer, Ranveer can be seen being chased by a bear and wolves. The first trailer shows Ranveer on a daredevil mission to find a atypical flower for Deepika Padukone, that never droops.
Definitely, Ranveer's crazy stunts are the highlight of the trailer. The Internet is packed with such creative and funny memes online that will make you go ROFL. We have put together the best ones for you.
See here:
India phir se world cup kab jitega?#RanveerVsWildWithBearGrylls pic.twitter.com/zurB7vjq33

— Nietzsche (@lemarque_1) June 25, 2022
Indian players in gabba test to win the watch at any cost#RanveerVsWildWithBearGrylls pic.twitter.com/e02V5EANCe

— Prudhvi (@Prudhvi486) June 25, 2022
India in knockout stages of world cup#RanveerVsWildWithBearGrylls pic.twitter.com/kAjcJRpHHD

— çhíñtú (@Dhfm__Chintu) June 25, 2022
Whenever a student sees the question paper and nothing comes out of it, he speaks himself like this#RanveerVsWildWithBearGrylls pic.twitter.com/dk3WaXNkIX

— 🇮🇳 Vartika Awasthi 🇮🇳 (@_VartikaIND) June 27, 2022
After finally getting a reply from your crush#RanveerVsWildWithBearGrylls pic.twitter.com/Tkl7KJ7l3L

— Rahull Chaudhary 🌈 (@itsrahull_) June 25, 2022
Kids in Desi Weddings pic.twitter.com/e5A3VU3vgX

— Godman Chikna (@Madan_Chikna) June 28, 2022
This looks hilarious 😂😂#RanveerVsWildWithBearGrylls

P.S. Waiting to choose the testicles option here😂💀🥂 pic.twitter.com/crZmfoKqNy

— 💀 (@idfc0001) June 24, 2022
Earth's mightiest hero ke saath Earth's goofiest hero 😭 pic.twitter.com/1Qy2BNo4AN

— Abhishek (@MSDianAbhiii) June 27, 2022
Talking about working with Ranveer, Bear Grylls said, "I am excited to be working with Ranveer. He is a supremely talented actor and a fireball of energy. The best part about him is his insatiable thirst for growth and adventure. Together with Netflix, Ranveer and I are thrilled to bring the ultimate adventure to audiences across the world."
Also Read: Ranveer Singh gets chased by bear on Ranveer vs Wild with Bear Grylls [Watch]