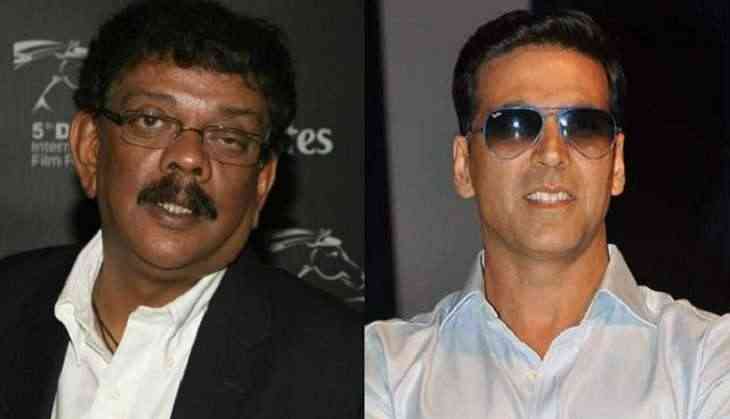 Priyadarshan on National Award: Why are people questioning Akshay Kumar's win?
Priyadarshan, the chairperson of the feature film section for the National Film Awards, says he does not understand why people are questioning his frequent collaborator Akshay Kumar's best actor win today.
The filmmaker has collaborated with Akshay in films like 'Hera Pheri', 'Garam Masala', 'Bhagam Bhaag', 'Bhool Bhulaiya', 'De Dana Dan' and 'Khatta Meetha'. Many in social media are attributing Akshay's win to his close proximity to Priyadarshan.
But the director says last year Ramesh Sippy was head of the jury and none questioned his good friend Amitabh Bachchan's best actor win, so why should he and Akshay be subjected to such allegations.
'I have heard of all that and I will answer it in a simple way. When Ramesh Sippy was jury head Amitabh Bachchan won. When Prakash Jha was head of the jury, Ajay Devgn won.
'So none questioned at that time. So why all these questions are cropping up today,' Priyadarshan told PTI.
The filmmaker also clarified that Akshay's performance in 'Rustom' and 'Airlift' were considered by the jury during the selection process.
However, as only the name of one film could be mentioned, the list featured the courtroom drama 'Rustom', he said.
'Akshay was given the best actor on the basis of his performance in two films -- 'Airlift' and 'Rustom'. It was the jury's decision. One performance was dramatic and one was realistic.
'But according to the rule book, only one film can be mentioned and 'Rustom' was mentioned in the list. But the award recognizes his performance in both the movies.'
This year saw the dominance of regional cinema at the National Film Awards with Marathi film 'Kasaav' winning best feature film, Surabhi CM getting best actress and Rajesh Mapuskar being named best director for Marathi movie 'Ventilator'.
Bollywood films which managed to score are 'Pink' (best film on social issues), Dhanak' (best children's film) and 'Neerja( best Hindi film).
Priyadarshan says regional films don't chase after box office numbers and that is why they are true to their stories and also give social messages.
'While watching films we realized that a lot of Bollywood movies were themed around homosexuality. The movies are not really highlighting social problems. Whereas regional cinema are themed around fantastic social issues. They try to tell different stories. Even 'Dangal' doesn't talk about social issues. It was a life story.
'Regional movies are not made with the aim to earn Rs 100 crore. They are made from the heart. We should promote films that reflect the Indian culture. Regional movies are doing a very good job of storytelling through social issues,' he says.
-PTI