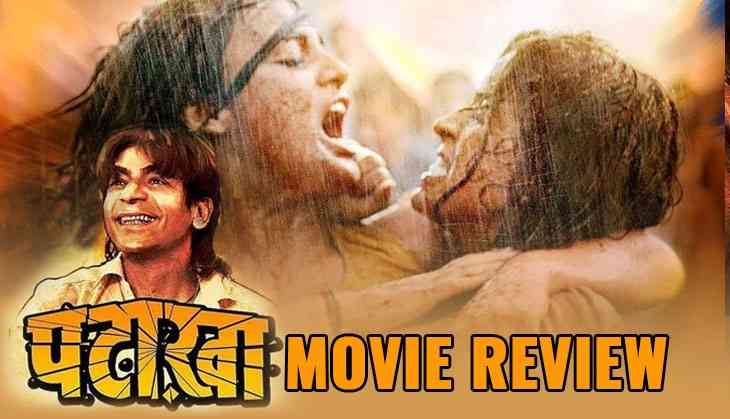 Filmmaker Vishal Bhardwaj was supposed to make a film with Deepika Padukone and Irrfan Khan called Sapna Didi but after Irrfan diagnosed with cancer, he decided to make a fun film called. He made it in a very small budget and in the very short span of time taking debutant Radhika Madan and Dangal actress Sanya Malhotra in the leading roles. Let's see what Vishal Bhardwaj offers in the fun drama Pataakha.
Movie Name - Pataakha
Star Cast - Sanya Malhotra, Radhika Madan, Sunil Grover, Vijay Raaz, Saanand Verma, Namit Das
Director - Vishal Bhardwaj
Producer - Vishal Bhadwaj, Rekha Bhardwaj, Ajay Kapoor
Music - Vishal Bhardwaj
Genre - Comedy Drama
Critics Rating - 3.5 stars
STORY
The film starts with the rivalry of two siblings Champa Kumar 'Badki' (Radhika Madan) and Genda Kumari 'Chutki' (Sanya Malhotra). They both are daughters of Baapu (Vijay Raaz) and he loves both his daughters very much. Badki and Chutki don't like to see each other and they hate each other like hell. Chutki has to leave her school because of Badki and it makes their rivalry much stronger.
In some series of the incident, Baapu decides to marry Badki with Patel (Saanand Verma), but before the marriage, Badki runs away with her boyfriend. Then Baapu decided Chutki to get married to Patel but again Chutki runs away with her boyfriend on the marriage night. This all happens because of Dipper Naradmuni (Sunil Grover). However, fate crosses once again for Badki and Chutki when they got to know they have married with the real brothers who love each other very much. Then to help them Dipper suggested Badki and Chutki to divide the family to live happily, however, in the plans of the division of the family several things happen that gives you a laughter riot on seats while watching the film.
DIRECTION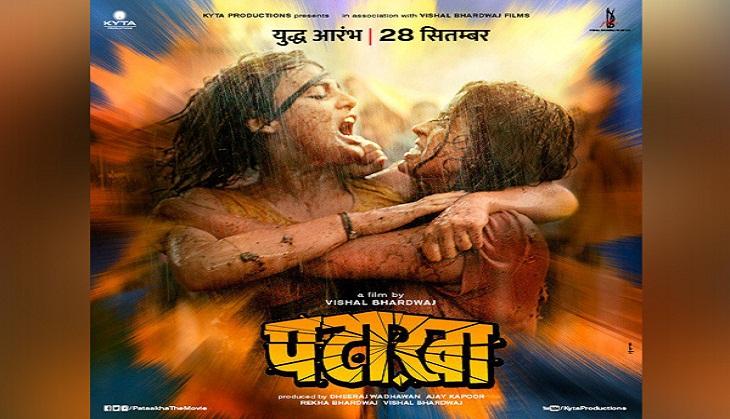 Pataakha film
Director Vishal Bhardwaj is always known for making serious films like Haider, Omkara, 7 Khoon Maaf, Rangoon, and others. This time the director decided to make a fun film Pataakha, based on the rivalry of two sisters. Vishal is again on the top and this time he surprises you with this fun story and the way he shot it. The film shot in the rural area and you will see the originality and reality of actors and the locations.
Not just a fun film, Vishal Bhardwaj also delivers social messages with the film like a woman can achieve more by her own, siblings can hate each other, fight with each other but they love each other the most. Even one most social message in the climax of the film that India and Pakistan are also siblings and what happens when things come to an end like Pataakha. No doubt, Vishal delivers one of the best of his filmography.
PERFORMANCES
Radhika Madan who was a television actress makes her Bollywood debut with this film, she is a mature actress. Even in her first film, she makes you believe she knows the right and perfect chord of acting. As a Badki she really gives you the flavour of having an elder sister and maturity in some major scenes. Maybe one of the best debuts on the silver screen.
After seeing her in Dangal as Babita Phogat, and now in Pataakha as Chutki, you will realize how she went under notice in Dangal. Actually, we should say Pataakha as her debut film in terms of everything. From acting to screen presence, she is always a delight to watch. In many scenes, you will get surprised that she is the same girl from Dangal. Sanya showed her versatility as an actress with Pataakha.
Sunil Grover is the most entertaining part of the film and whenever he comes to screen he makes you laugh and you will miss him at many places. Obviously, it is his character and performance that makes you miss him on the screen. Best performance of him as an actor.
Vijay Raaz is perfect in the role of Baapu and a father of two daughters in a rural area. He is the most mature person in the film and it is amazing to watch him in the films like Pataakha.
MUSIC
Filmmaker Vishal Bhardwaj himself has given the music in Pataakha like always. However, all the songs in the film go with the flow. Two songs Balma and title song Pataakha are the fun song, specially Balma featuring on the two leads have the most fun elements.
VERDICT
Pataakha is a film with everyone should relate and everyone will get the answer why they hate their siblings and even after the so much hate why they can't live without each other. A film that you should watch if you have free time.