Reports emerged today that a video directed by Chairperson of Central Board of Film Certification, Pehlaj Nihalani is being run at several PVRs during the interval of the Salman Khan -starrer Prem Ratan Dhan Payo. Only that the video is dedicated to Prime Minister Narendra Modi.
Scroll.in reported, " A 5.30-minute video singing the praises of the prime minister and the Centre's achievements is playing during the interval of Sooraj Barjatya's latest movie at several multiplex chains across the country, including PVR Cinemas and Inox." The music video is titled: "Mera desh hai mahan, mera desh hai jawan".
There were also unconfirmed reports about Mr Nihalani "blackmailing" PVR authorities to push the video.
Also read: Salman Khan's Prem Ratan Dhan Payo movie review
Well, if you do not understand the pain of sitting through a Pahlaj Nihalani video, let us remind you that he is the same guy who directed the "Har Ghar Modi video" in 2014 for Modi's election campaign.
All that, obviously, was before Nihalani, who has run into trouble with filmmakers quite a few times for his propensity to cut "adult" scenes and beep expletives, became the Censor Board chief.
However, the whole scenario of the Censor Board chief making a video "dedicated to the PM" and tying up with the most awaited film of the year at PVRs presents, if we may say, a case of conflict of interest. Or at the very least a case of impropriety.
So we decided to catch up with Mr Nihalani to understand why he made the video and if he is promoting the Prime Minister.
Also read: I play a typical naughty Rajshri Prem in Prem Ratan Dhan Payo, says Salman Khan
Are you aware that your song Mera Desh Hai Mahaan has been attached to the prints of Prem Ratan Dhan Payo? We got reports from some Mumbai PVRs.
Yes, I only asked the them to do so. It has been attached to the prints of Prem Ratan Dhan Payo. And I believe there is nothing in the video that is objectionable.
But the song seems to promote a certain political figure, who happens to be the Prime Minister of India. Don't you think this will influence people who paid to watch Prem Ratan Dhan Payo?
It is a video which talks about the nation and not specifically about a person. Even the trailer of Shah Rukh Khan's Dilwale and Sunny Deol's Ghayal Once Again are attached to the prints of the film, why are you not objecting to that? Everyone wants to cash in on a Salman Khan film.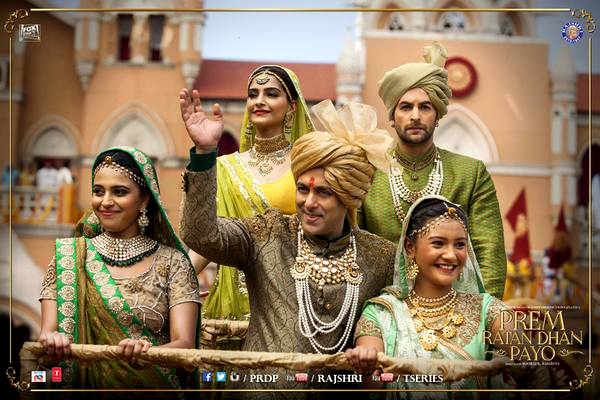 But, the video of the song features a picture of PM Modi. Doesn't the song glorify the PM?
The song doesn't glorify anybody except the nation. It says "Bharat ko Swachh banana hai, Jo Sapna dekha Bapu, Modi ne, Usse mil-jul kar Humein Sach kar Dikhana Hai". So it talks about how we all should come together and work towards the betterment of the nation.
All other clips that have been attached to the prints of PRDP either belong to a film or provide a social message. How does Mera Desh Hai Mahaan fit here?
This song that we are talking about is a part of a film that I am making. We have almost completed the film and the details of the film are soon going to be announced.
Also read: #CatchExclusive: Will Salman Khan's PRDP pull Fox Star Studio from their pool of bad luck?
When is the film releasing? Who all are part of it?
There are many actors in the film. It's a big film and we are planning it to release in February 2016.
There are reports that PVR officials were forced to run the video on screen. What do you have to say about that?
No, absolutely not. There was no pressure on them. They readily accepted it to run along with other clips during the interval of Prem Ratan Dhan Payo. And those who have time can run it.
Watch the song here:
Also read: #CatchExclusive: Salim Khan tears up after watching Prem Ratan Dhan Payo