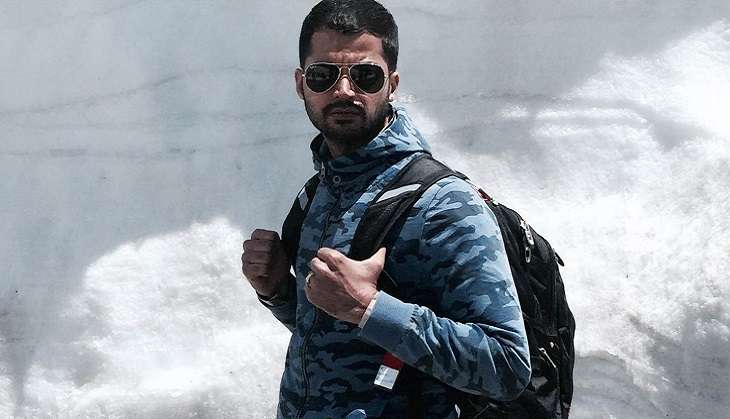 After having working in films like Issaq, Identity Card, Neerja and 6-5= 2, actor Prashantt Guptha is now gearing up for the release of an untitled war film starring Prosenjit Chatterjee and Neeraj Kabi.
Guptha shot alongside the Indian armed forces for the film, which will see him essay the role of a soldier.
The actor has penned an open letter saluting the spirit of the Indian Army. Read the full text of the letter below:
On 29 May 2016, I took off from New York to Mumbai, before heading to a remote location in Himachal Pradesh. I had to put an abrupt end to my beautiful holiday in New York where my family had gathered. Being seen off by thirteen other family members can dampen both the spirits and the eyes. But I put on a brave front. I felt like a soldier who has been asked to cancel his leave and report back to duty.
But I'm not a soldier. I'm an actor who was heading back to do a film where I play a soldier.
This letter isn't about me or my struggles and achievements. This letter is not about my films either.
This is about every soldier of every country. They are the real heroes of the world. This was and will always be true. My saying so doesn't validate it. What I am saying may not be necessary, but what I'm saying comes from the bottom of my heart as it is an awakening that came from two weeks of playing a soldier. Having to face challenges and dangers provoked me to write this letter.
This letter is from a reel-life soldier to a real-life soldier.
I truly wish that the world would be devoid of soldiers. Because I wish the world was a peaceful place where we did not need soldiers.
I played a soldier in a film for art, fame and money. There is nothing selfless about it. I play a Pakistani Major in the film. But I noticed that while shooting, my emotional stress had nothing to do with the politics of either country. I could not relate to either country but my experience taught me so much about the state of mind of a military man.
I affirmatively believe that their emotions aren't political. They are in fact, purely human emotions.
I don't think any soldier wants to be at war. They do it out of duty, out of a debt towards his/her motherland. While soldiers may be firm, disciplined, dedicated and fiercely trained, how often do we, as civilians, stop to wonder about what soldiers think about?
I would spend hours thinking about what the mother, father, perhaps spouse or child of such a solider must be going through at home.
I confess, I was also scared. The terrain was high and volatile, temperatures almost zero, the commute was terrifying, the oxygen levels low and blizzards and fog would make me feel like I would die soon.
I felt a surge of massive love towards my land, but an almost equal disconnect with the political or other masterminds who orchestrate such non-peaceful situations. What is it all worth? There isn't a single country in this world that has managed to utilise its land to the maximum. What then is the purpose of extending the boundary further?
A dozen other such thoughts ran across my mind. Even when we would unwind after pack-up, my mind would wander back to the soldiers.
My gurus and guides teach me that upon waking up every morning, I should thank God for giving me another day. I wonder then what a soldier thinks when he wakes up in the morning. Will I be killed? Will I kill another?
There are so many things that I can't stop thinking about.
My work was done in two weeks. Not to forget that throughout those two weeks I was provided with adequate protection.
But what about that soldier who does this for a living? The soldier who does this in all kinds of extreme weather and situations with no definite end in sight? These soldiers, who do all this without thinking about money or fame? What about that soldier?
On this Kargil Vijay Diwas, in honour of 26 July 1999, I pay homage not only to the soldiers of India and Pakistan, but of the entire world.
My dear brothers and sisters in every armed force of the world, may God bless your souls. I salute the sacrifice of the mother who delivered and breast-fed you, the courage of the father who raised you with a different dream altogether, your spouse, who is like no other and your children, who probably pray more than anyone else in the world.
I hope this letter reaches as many people in the world as there are soldiers, and that each and everyone reading it has a new found respect for these children of God.
With deepest respect,
Prashantt Guptha