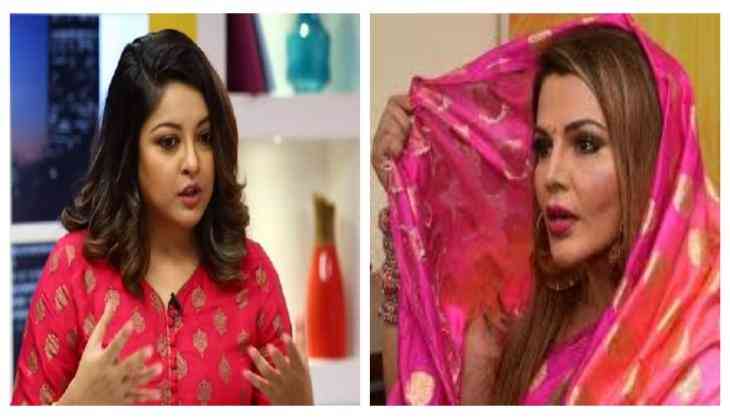 Tanushree Dutta, who has shaken the Bollywood after making the allegations on the actor Nana Patekar and also become the torchbearer of the #MeToo movement. Many women have spoken about their harassment stories on social media under the campaign. However, there are many who are not in the support of #MeToo like Rakhi Sawant.
After Tanushree Dutta claims, Rakhi Sawant was not in her favour rather she had spoken disgraceful things and also did a press conference, release dance video in which she can be seen guiding all the ladies that how to prevent themselves from the harassment at their workplace.
Now, Tanushree Dutta has given her reply and also slammed her for what she said against her. Dutta called Rakhi ''sex and money obsessed fool'
Tanushree Dutta said that 'my parents always told me to choose my friends very carefully and I learnt to live by that advice.' She also added that she avoid those people who are not good for me. Therefore, 'it is disgusting when uncouth, uneducated, downmarket, perverted, classless characterless, degraded abominations like Rakhi Sawant claim to ever be friends with me,' she added.
Tanushree also told that when she met with Rakhi Sawant for the first time. As per Dutta, she had an only interaction with Rakhi was at the international airport lounge in 2009. She added that she tried to ignore her but somehow Rakhi talked her.
Tanushree claimed that Rakhi was even tried to convert her religion to Christianity.
The Dhol actress added that Rakhi told her that she will go to hell if she doesn't believe in Jesus. 'Rakhi also trashes Hinduism and murti puja by calling it devil worship,' Tanushree told.
She added that after this Horn Ok Pleassss controversy, Rakhi tried to do Dutta's brainwash and gave some strange ideas about religion.
"These Rakhi Sawant of the world are the kind of people who are the reason the minorities get into trouble in our country. When they are Hindu, they talk badly about other religions and when they convert, they talk badly about Hinduism. But the good ones get judged by the behaviour of these so-called converts," Tanushree wrote, adding that the "real reason" Rakhi was badmouthing her was because of "a conversion attempt went bad".
Also read: Watch Video: 'I no longer make physical relations,' Rakhi Sawant makes strange comment again; says 'mera shareer mandir hai'