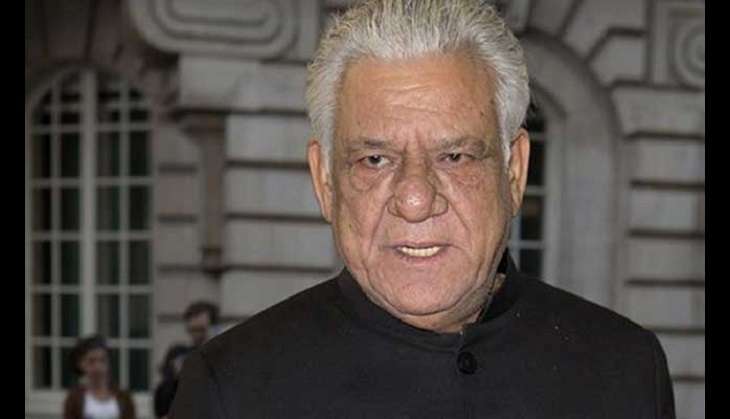 When Smita Patil's Sonbai refuses to give in to Naseeruddin Shah's Subedar in Ketan Mehta's 1987 masterpiece, Mirch Masala, she takes refuge in the spice factory. The factory is guarded by Abu Mian, the wise old Muslim gatekeeper who shuns every attempt and trick by Subedar's team to seek entry. The situation escalates to such heights that almost the entire village wants Sonbai to submit, to escape Subedar's wrath, so much so that Sonbaistarts doubting her resolve too. But Abu Mianstands firm in his convictions. In the final moments of the film, we see the khaki clad old Mian as the lone man standing with his gun while Subedar'smen are about to demolish the gate. He looks back at the women one last time, before he fires and gets fired at, dying for his convictions, and soon, giving birth to a mutiny of flaming red.
This character of Abu Mian played with wondrous zeal by Om Puri strangely stands as a parable for the life of the actor. Puri who rose to prominence in the 80s with his compatriots Naseeruddin Shah, Smita Patil and Shabana Azmi was the toast of the decade, but later in the 90s and 00s, he degenerated into something strange, very unlike what he started as.
The current millennial generation would remember Puri as the man who mostly hammed in Bollywood potboilers, but if they ask their elders, they would know what a fiercely intelligent presence he once embodied especially during the post-emergency period of Indian cinema.
When parallel cinema emerged as a contrarian force to the commercial cinema which was spearheaded by Amitabh Bachchan's skyrocketing star power, Om Puri became one of its celebrated faces. He worked with one acclaimed director after another - Govind Nihlani, Ketan Mehta, ShyamBenegal, Goutam Ghose, and even the great Satyajit Ray, churning out a steady flow of films that could compete with any great film of the world. With Naseeruddin Shah, his classmate from National School of Drama (NSD) and Film & Television Institute of India (FTII), he displayed what can be termed as a case study for rivalry that is healthy and mutually symbiotic.
Puri's embodiment of simmering anger is the one that gets most talked about. He managed to bring to life the rumbling fury of a cornered man capped with helplessness in two characters on wildly opposite spectrums of society, one a cop and the other, an untouchable in two striking films. If ArdhSatya let it explode, Sadgati had an implosion of it. Two facets of measured fury, with allowing zero sentimentality that would no doubt foil it and make it for easy consumption.
If his intense turns made him the cerebral angry young man, his lighter vein too had enough blood to make hearts beat with laughter. The collective comedy consciousness of India will find it impossible to forget his drunk Ahuja in Kundan Shah's Jaane Bhi Do Yaaro (1983), as well as his Banwari Lal who turns awkward suitor to Kamal Haasan's female version in Chachi 420 (1997).
Puri, an integral part of the Indian new wave, was lauded by international media, and in turn became a regular face in British films, especially Channel 4 and BBC. His international resume has luminous names such as Richard Attenborough's Gandhi (1982), Ismail Merchant's In Custody (1993), Roland Joffe's City of Joy (1992), Mike Nichols' Wolf (1994), Damien O'Donnell's East Is East (1999), and Lasse Hallström's The Hundred-Foot Journey (2014). He also satiated his creative hunger in the magnificent days of Door Darshan, Bharat Ek Khoj, Yatra, Kakkaji Kahin, and Tamas, the definitive version of the Partition, all befit revision for their artistic legitimacy.
All was well till the 90s descended. Puri who had, like Abu Mian, held his fort till the last decade, was somehow lured into the muck of masala that had zero narrative honesty. As a result, one of the sprawling careers of Indian cinema was slowly devoured into nothingness in the name of entertainment. Rajkumar Santoshi's Ghayal (1990), Gulzar's Maachis (1996), Rajiv Rai's Gupt (1997), Vishal Bhardwaj's Maqbool (2003) were a few drops of respite in a long drawn drought.
It would of course be very easy to judge Puri for disintegrating his great career into the quicksand of potboilers, for we, the mere mortals for all our uprightness, want heroes to be idealist, even if we fail to in our everyday lives. For an actor of his worth, who was almost always well above the seduction of a conventional star, he deserved a vast critical overview to capture his sweep and impact.
The Ambala boy, born into poverty, never had it easy. He was sent to his mama's (maternal uncle) house to be brought up because his parents were always in dire straits. Before his school life could end, a misunderstanding between his mama and his family ousted him from the little comfort he had, and since then, he grew up on his own. His college life, his NSD stint, the FTII period were dark times when, he barely made ends meet through hard work, and the kindness of others.
The 80s may have given him a bellyful of roles, but money wasn't easy to come by. The films in the 90s and later may not have had the girth of his ambitions, but the money surely safeguarded him and his family from financial penury. He was honest enough to admit it whenever confronted.This was the boy who had been hungry for so long, that he continued to eat against his hunger.
Closing a piece on such a trailblazing career is usually very difficult. There is a little story I would like to recollect from Puri's life when he was born. One of eight children, Puri contracted smallpox when he was barely two years old. His mother, Tara Devi, tied his hands to the cot on which he was laid on so that he didn't scrape the prickly rashes. Imagine the sheer helplessness of that child, unable to understand the gravity of the situation, and the anger that would emerge. Puri, the pockmarked face, with that helpless seed of anger as the average Indian is the one who would reside in our combined loss, as he stood guard over the gate of great cinematic freedom. So long, Abu Mian.
By,
Ranjib Mazumder
(Ranjib Mazumder is a journalist and a screenwriter.)