Ami Sheth
| Updated on: 21 April 2017, 17:14 IST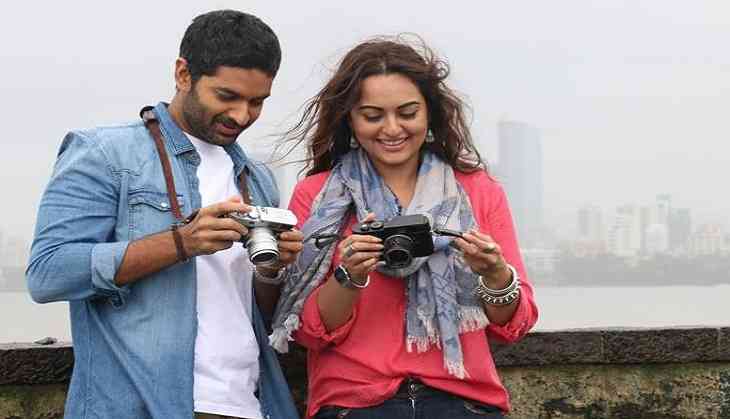 Purab Kohli and Sonakshi Sinha (still from the film Noor)
Actor Purab Kohli shares his experience of playing a photo journalist in Noor, working with Sonakshi Sinha and more...
What preparations did you do to play a photo journalist in Noor?
Well, mainly looking at the images of Iraq because the character I play is a war photo journalist. There's an Indian photo journalist called Sudharak Olwe whose work I admire a lot now. I was introduced to his work by the director of Noor, Sunhil Sippy. Sudharak doesn't take war pics, but he clicks the everyday lifestyle in Mumbai. Just understanding their profile and in what kind of scenario they put themselves in are the things that got me thinking about the character.
How did you find performing behind the camera and at the same time being in front of the camera?
You don't really think of anyone when you are performing whether in front of the camera or behind the camera. I treated it just like any other character that I have worked on before. My experience was great; it was very interesting to see the life through the lens. There's a certain kind of silence that comes in, when you see things with a different perspective. After being in this profession for a long time you have a reference point of the photographers and photo journalists. I met a lot of photographers but photo journalists are the ones you generally meet. For reference I had to learn a little bit about the profession. It's not an easy scenario that they work in, especially the war photo journalists. My character is more exposed to the things that I am not exposed to as an individual.
How was it working with Sonakshi Sinha?
She is extremely hard working actor. She is a professional that sticks to her job and she is a damn good actor. It's a fun experience and I have had a pleasure to work with her.
On one hand social media is a key for successful marketing and on other hand it has also become a major controversial platform for the celebs. Comment?
I definitely think it's a nice space where you voice what you want. More and more people reacting upon the things being said. I think social media allows you to express yourself in front of the people. If you have said something it will reach many people but you really cannot get down to offending people. I really think it's a good medium where everyone is allowed to express what they want to. Sharing your thoughts on it might actually help others to solve the problem more than creating a noise.
Do you think celebs should think and tweet or there should be a freedom of speech?
Why only celebs I think everyone should get a freedom of speech. If a celebrity is sending out an abusive language to the public then it is obvious that he is not thinking and tweeting but, if a celeb is tweeting something what is in his mind for me that is a thought. Not thinking and tweeting nobody should do but having a thought about something and putting it out there is natural. If people want to listen to that you are welcomed and if not then too it's fine.