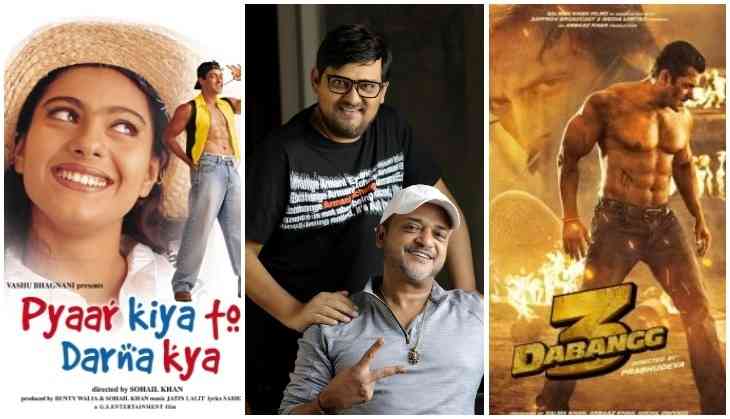 Sajid-Wajid's outstanding compositions
Wajid Khan's demise came as a shocker for Bollywood and as wells as for the country. Within just two months Bollywood has lost its three gems and with this, the Jodi of Sajid-Wajid also came to an end. However, their amazing songs and Wajids amazing voice will always be there in the hearts of his fans.
As everyone knows Sajid-Wajid rose to the fame from Pyaar Kia Toh Darna Kya (1998) and since then there is no looking back for the duo. Well, all credit goes to Salman Khan who gave them this big opportunity to compose music in his movie in 1998. Since then they have given music to most of Salman's film including other and in a short span of their career they wrote their name in gold words in Bollywood.
Also Read: Wajid Khan Funeral: Brother Sajid Khan cries bitterly at music composer's last rites at Versova Crematorium; watch heartbreaking image
Here we have enlisted few of Salman's film in which this amazing duo composed the songs and gave hits to the Bollywood.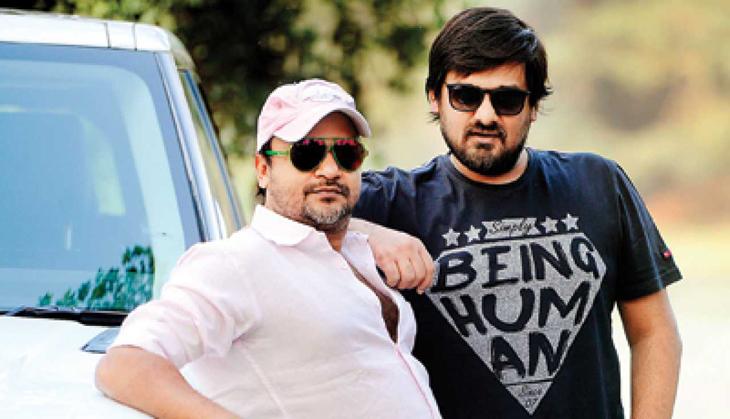 Pyaar Kia Toh Darna Kya (1998)
The music of the Salman Khan starrer is credited to Himesh Reshammiya and Jatin-Lalit. But it was with this album that Sajid-Wajid debuted. They composed the hit number Teri Jawaani, featuring Arbaaz Khan and with this Sajid-Wajid instantly forged a friendship with Salman.
Hello Brother (1999)
Sajid-Wajid then went on to compose for another Salman Khan film, Hello Brother. This was in collaboration with Himesh Reshammiya, Sajid-Wajid were credited with four songs - Area Ka Hero, the superhit Hata Sawan Ki Ghata, Chupke Se Koi and the title track Hello Brother.
Also Read: 'Will always miss you and your talent': Salman Khan mourns demise of Wajid Khan
Tumko Na Bhool Paayenge (2002)
After a couple of popular tracks in between, Sajid-Wajid went on to work on another Salman flick also starring Sushmita Sen and Dia Mirza. The film did an average job on box office however, the song Mubarak Eid Mubarak became highly popular.
Tere Naam (2003)
One of Salman's greatest hit had Sajid-Wajid compose Tune Saath Jo Mera Chhoda. While Himesh Reshammiya was credited for the album, this song went on to become extremely popular.
Mujhse Shaadi Karogi and Garv (2004)
The year 2004 was a good one for this duo. Both Mujhse Shaadi Karogi and Garv held huge box-office hits and the music of both these films became highly popular. Sajid-Wajid worked on five songs for Garv and seven songs for Mujhse Shaadi Karogi and for both the albums they collaborated with Anu Malik.
The Killer (2006)
Starring Emraan Hashmi, Sajid-Wajid worked solo fir this movie, not the first, but certainly the most popular one. The music and the songs of the film surpassed the box office by miles, and it was also not a Salman Khan film. Therefore it helped cement Sajid-Wajid's position in the industry.
Also Read:
Partner and Welcome (2007)
Who can ever forget the foot-tapping numbers in Partner? All credit goes to Sajid-Wajid. In this film too the duo composed the album solo, and along with the film, their music too became a chartbuster.
The very same year, they also composed the title track for the Akshay Kumar, Anil Kapoor and Katrina Kaif-starrer Welcome, another song that is still quite popular.
Wanted (2009)
It is a beautiful irony that Sajid-Wajid never had to look back after they composed the hit album, Partner. Their partnership, along with their hit Jodi with Salman Khan always seemed to weave magic. Next in line was the superhit film Wanted, and needless to say another chartbuster.
Dabangg (2010)
2010 is when the Dabangg franchise started, and Sajid-Wajid has been a constant with it, just like Salman Khan. Well, the most famous song in the film which everyone looks forward to in the parties is Munni Badnam and again the credit goes to Sajid-Wajid.
Housefull 2 and Rowdy Rathod (2012)
In this year, Sajid-Wajid composed for two superhit film, both starring Akshay Kumar in the lead. The flavour of these two albums was very different, while Housefull 2 was urban, Rowdy Rathod had a rustic thread about it and guess what both became immensely popular.
Dabangg 2 and Ek Tha Tiger (2012)
Same year Salman Khan's two films were released in which the duo composed the chartbuster album. Well for Dabangg 2 Wajid even sang the songs Pandey Jee Seeti and Fevicol Se for the film. The duo was even credited as lyricists for the item song Fevicol Se featuring Kareena Kapoor.
Talking about Ek Tha Tiger here though Sajid-Wajid didn't work on the whole album, however, they did compose one superhit number Mashallah.
Main Tera Hero and Heropanti (2014)
By this time, Sajid-Wajid had built its place in the music industry and in 2014, they had Varun Dhawan's and Tiger Shroff's film to their list of accomplishments. Salman's Jai Ho also came the same year, and even though the film didn't fare as well as expected, the songs became a hit.

Judwaa 2 (2017)
Salman Khan's Judwaa was remade with Varun Dhawan in the lead, and for this Sajid-Wajid was chosen to take Anu Malik's original work forward. Considering how immensely popular the songs became, it is safe to say they simply outdid themselves.
Dabangg 3 (2019)
Once again when Chulbul Pandey returned 7 years after Dabangg 2, he brought Sajid-Wajid with him. The music composer duo worked on the whole album solo and included the cult Hud Hud Dabangg as well as the new version of Munni Badnam - Munna Badnam.
Also Read: Netizens mercilessly troll Anushka Sharma-Virat Kohli after Hardik Pandya-Natasa Stankovic announce