Taapsee Pannu won over the audience with her short yet impactful portrayal of a RAW Officer in Akshay Kumar's Baby. The actress, who is working with Amitabh Bachchan in Pink, is already creating waves upon the release of the theatrical trailer of the court-room drama.
In an interview with Catch, the actress opened up about her excitement to start shooting for her first women-centric action film, Naam Shabana, which is a part of the Baby franchise.
Excerpts from the interview:
How do you describe your journey in Bollywood?
It has been an interesting journey for me in this industry. I am extremely happy with my choice of films be it Chashme Badoor, Baby or Pink. In my opinion, people see me as a commercial mainstream face because of Chashme Badoor. I would have been side-lined had I started with a hard-hitting film as people would have labelled me a character actor. I am surprisingly myself and the audience with every film.
Rishi Kapoor in Chashme Badoor and Amitabh Bachchan in Pink, how does it feel working with legendary actors?
It is not something that I planned. It feels nice that I can actually have these people around me as the same adds to my value as an actor in this industry. You manage to leave a mark only when you work with people who have a standing in this industry. Since I was working with Amitabh Bachchan in Pink, I had to raise my own standards in terms of acting. I am extra-critical about my work and given the way Amitabh Bachchan is raving about our work in the film, there is an added responsibility and pressure on me. If you like me in the film especially in the court sequences, the entire credit should go to Amitabh Bachchan. I am not a trained actor and I like to derive energy from co-actors.
What is Pink all about?
Pink is about what happens with three girls who stay in the same house. If you see the film as an outsider, you would conclude it as a story about three girls because all of us suffer equally.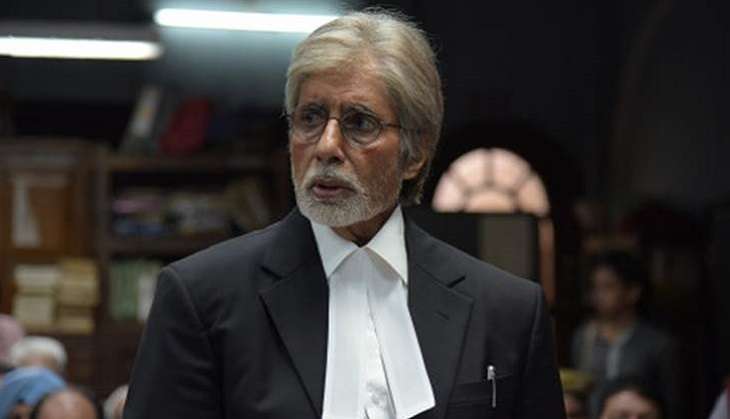 Amitabh Bachchan in Pink
It has been a year and a half since the release of Baby; what makes you take such long breaks?
It is boring to do same films back to back. After Chashme Badoor, I was offered similar kind of roles and I didn't want to get stereotyped. So in between Chashme Badoor and Pink, I had several films lined up for release down South which kind of challenged me.
Given how short audience's memory is, don't you think it is important to do more films?
Visibility should not be the reason to take up films. If you want to be in the audience memory, you should do something very hard-hitting which does not get out of their mind easily. I have done a couple of films in South to make my presence felt, but those films didn't do well commercially. So that strategy didn't work as such. So, I will not repeat the mistake again.
Tell us something about Naam Shabana?
It is a part of Baby franchise and its called Naam Shabana. I play the titular role of Shabana in the film. Naam Shabana is written and produced by Neeraj Pandey. I am learning mix-martial arts for the film along with some basic MMA techniques. The movie will star Akshay Kumar in a cameo along with Manoj Bajpayee and Prithviraj playing important roles.
Did you expect such an overwhelming response towards your character in Baby?
I knew that my character in Baby would leave an impact but I never expected such an overwhelming response. I was okay with forcing myself into the film because Neeraj Pandey didn't think that I would fit into the film. I was definitely not his first choice but I requested him to let me audition for the film. I knew that Baby would leave an impression on the audience.
From not being sure to casting you in Baby, Neeraj Pandey is now making a stand-alone film with you. How does this feel?
It is a big sense of accomplishment that Neeraj Pandey is making a women-centric action film based on my character from Baby. One of the major reasons to make Naam Shabana is because Neeraj Pandey and Akshay Kumar got a lot of feedback about my character from people within the industry. They wanted to see more of me in the film which is the reason why Neeraj started thinking about making a stand-alone film. The film will be shot for three months starting in September.
Pink is slated to release on 16 September 2016.