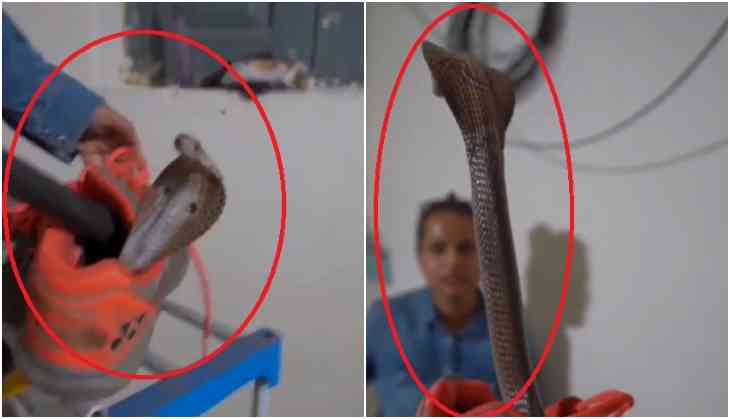 Screenshot from the viral video
During the rainy season, insects and snakes often come out of their bills and enter our houses. In such a situation, sometimes these unwanted creatures create trouble for humans. One similar incident took place wherein a giant cobra entered a house and hid inside the shoe.
The scary video was shared by IFS officer Susanta Nanda on Twitter.
Also Read: Woman finds over 90 venomous snake under her home; know what she does next
He captioned, "You will find them at oddest possible places in http://monsoons.Be careful. Take the help of trained personnel. WA fwd."

In the video, a female employee from the forest department can be seen rescuing the snake from the shoe kept on the shoe rack.
Watch full rescue video of snake:
You will find them at oddest possible places in https://t.co/2dzONDgCTj careful. Take help of trained personnel.
WA fwd. pic.twitter.com/AnV9tCZoKS

— Susanta Nanda IFS (@susantananda3) July 11, 2022
The woman uses the iron rod to take out the cobra from the man's footwear. As she puts the rod inside the shoe, the snake comes out of it and tries to attack the woman. However, she handles it with precaution and takes it out of the shoe.
While rescuing the snake, the woman also gives a warning that one should check their footwear before wearing them.
Meanwhile, the video has gone viral on social media and it has garnered over 21k views and 1,426 likes on Twitter.
Netizens call it scary and applauded the woman for her brave act.
What are your views on this horrifying video?
Also Read: Woman catches huge venomous snake; video will give you nightmares