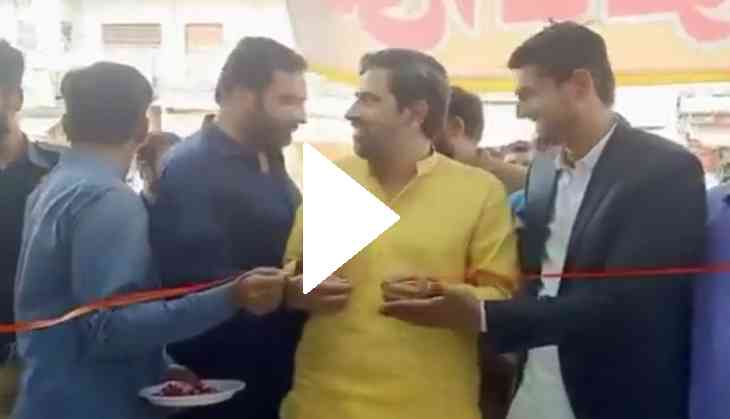 Pakistan's minister ribbon cutting video goes viral (Source: Twitter)
The Internet has been filled with several hilarious videos of Pakistanis that have burst into laughter. Another bizarre video from Pakistan has surfaced on the Internet which shows Pakistan's Punjab Province Minister Fayyaz ul Hassan Chohan's video that left netizens amused.
In the video, Pak minister Chohan can be seen attending a function and is supposed to inaugurate the event. The way he cuts the ribbon has become a viral moment for social media users.
Also Read: OMG! Woman plays with giant monitor lizard; video leaves netizens surprised
As soon as Chohan tried to cut the ribbon, the scissors wouldn't cut the ribbon. However, the minister tried once or twice but couldn't cut the ribbon with the help of scissors. Therefore, he grabbed the ribbon and cut it with his teeth. People standing with him can be seen laughing as the minister cut the ribbon in a hilarious way.
The viral video was shared on the Twitter page, The Pakistan Daily along with a caption, "Punjab Minister Fayaz ul Hasan Chohan 'Desi Style' Ribbon Cutting Ceremony."
Check out the video:
Punjab Minister Fayaz ul Hasan Chohan 'Desi Style' Ribbon Cutting Ceremony. #PTI #FayazChohan #Pakistan #Punjab #Lahore pic.twitter.com/sFKtSNB6wz

— The Pakistan Daily (@ThePakDaily) September 2, 2021

This desi style of cutting the ribbon has gone viral and netizens couldn't hold their laughter after watching the viral video.
What's your reaction after watching this video of the Pakistan minister's ribbon cutting?
Also Read: Copycat! Monkey tries to wear mask like human; hilarious video goes viral