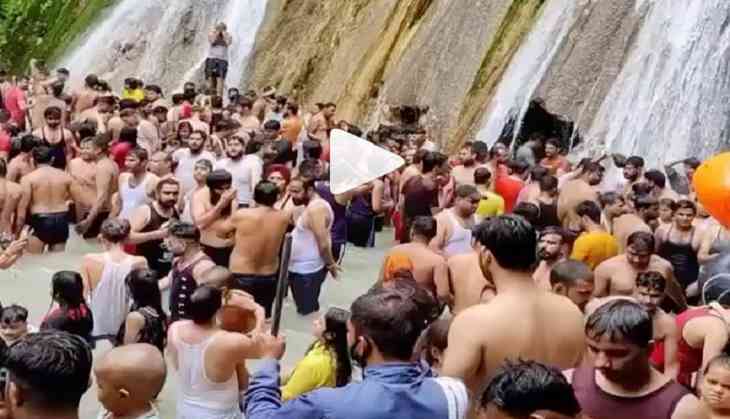 Screenshot of video showing people enjoying at Kempty Falls
The coronavirus pandemic is not yet over but people have started flouting the COVID-19 guidelines after the unlock process has begun across the nation. Amid the fear of the third wave, a video from Uttarakhand's holiday destination has gone viral which shows a huge number of people without wearing a face mask and no social distancing at the site.
The viral video is said to be from the Kempty Falls in Mussoorie. After the Himachal government eases its COVID-19 lockdown, tourists have started gathering at the holiday destinations of Mussoorie and Nainital.
After seeing the viral video, social media users left aghast at the blatant act of people enjoying without caring about COVID-19 effects.
Instead of learning lessons from the deadly second wave of coronavirus, people have started living a normal life as if the COVID-19 pandemic has gone. However, the government had already stated that the third wave of coronavirus is dependent on how the public follows the COVID-19 norms.
Also Read: Ambulance driver in PPE kit dances with baraat; video goes viral
It appears that people still not taking the COVID-19 guidelines seriously and welcoming the third coronavirus wave, sooner rather than later.
The clip was shared on the Instagram account So Delhi and went viral on other social media platforms as well.
"Not so empty Kempty falls in Mussoorie! What're your views on this?" the video caption reads.
The video has sparked outrage and concern among the netizens about the adverse effect of the attitude of these holiday goers.
Also Read: Doctors and final year MBBS students sing and dance on various song for COVID patients; video will make you happy
One of the users wrote, "Empty brains at Kempty"
Another said, "Stay there forever... Stupid people...maybe they enjoy being quarantine the whole year again... brainless being"
"3rd wave ki tagdi tyari chal raha hain!" a worried netizen wrote in comment box.

What's your view on this "COVIDIOTS" video?

Also Read: UP: 2 held after video of COVID patient's body being dumped in river in Balrampur goes viral