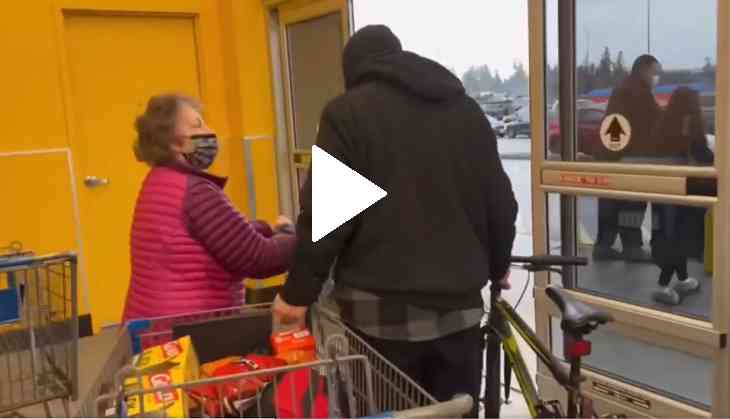 Man tries to run out with cart full of grocery items
An elderly woman has won the Internet after she taught a lesson to a shoplifter at a Walmart in Campbell River in British Columbia, Canada. The video of the incident has gone viral on social media.
In the video, a man with a black coat and hoodie can be seen strolling with a cart full of grocery items inside Walmart.
However, a man was also chasing him and recording the whole incident which happened on January 29.
Also Read: Robbers loot Rs 1 cr at gunpoint from Mumbai office, watch terrifying video
The whole situation turned when Elaine Gallaway (73) showed courage and pulled off the man's balaclava so that his face could be identified on camera.
The elderly lady single-handedly stopped an alleged shoplifter.
Elaine Gallaway also informed a Walmart employee about the man and was also assured that the security would be alerted about what happened.
Watch Video:
Grandma tries to stop a shoplifter pic.twitter.com/BBuwnoXLRU

— The Daily Sneed™ 💭 (@Tr00peRR) January 31, 2022
In the viral video, the man who filmed the incident also asked the shoplifter, "Are you gonna pay for that?"
The man in the mask replied 'yes' but then he approached to leave the door.
Meanwhile, the elderly woman is receiving applaud from online users for her bravery.
The grandmother also told that she had noticed that the shoplifter had one hand on his cart while the other hand on his bicycle, so she immediately understand that he had no weapons.
Therefore, she stopped the shoplifter without worrying about any serious consequences.
The video has gone crazy viral on social media. The viral video has received over 1 million views and several comments on social media.
One of the users wrote, "God bless this grandma. She's much braver than most of young people."
Also Read: Caught on Cam: Thief steals from gold exchange store; slithers out with $50,000 in silver