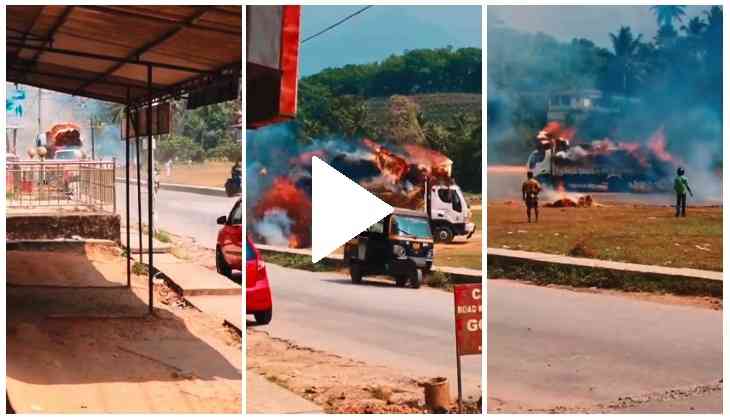 Screengrab from the viral video
A man from Kerala is grabbing headlines for his heroic act. The incident took place in Kerala's Kodenchery on Sunday when the lorry was carrying straw from Waynak and caught fire.
The truck driver named Shaji Pappan got attention on social media after his timely intervention averted the major tragedy.
Pappan drove the burning lorry to safety after the truck driver got panicked and fled from the spot.
The video of the incident was shared on Instagram account @kozhikottukaarofficial. The user also described the whole incident in the video caption.
Also Read: Motorcyclist falls in front of speeding truck; dashcam footage will haunt you in your sleep!
The fire department also rushed to the spot after being alerted and brought the flame under control.
According to the caption, the straw might have caught the fire due to the short circuit caused by electric wires.
Watch Video:

In the viral video, the man can be seen driving the burning truck to the ground and moving it in a way so that the straw fell on the ground. While onlookers also gathered at the spot.
After the incident came to the limelight, Congress MP Rahul Gandhi has congratulated Shaji Pappan for his brave act.
"It is suspected that the fire was caused due to a short circuit from electrical lines which struck the straw. The courage shown by Shaji Varghese, known as Shaji Pappan, a merchant and driver in Kodancherry has averted a major tragedy," the video caption reads.
Also Read: Circus performer stunt goes wrong; scary video goes viral