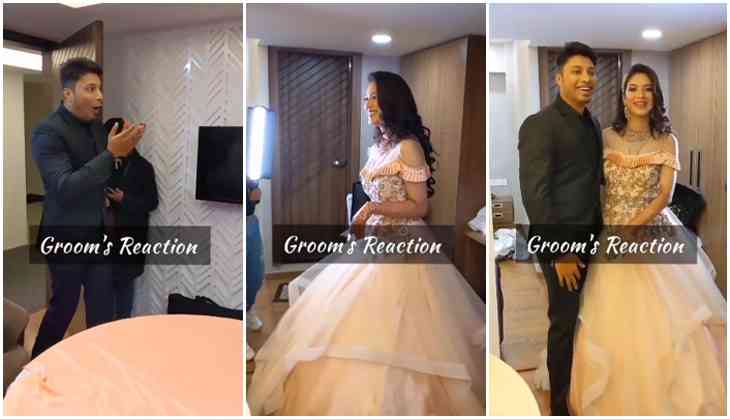 Screegrab from the viral video
Seeing your love in wedding attire is the best feeling in the world. The Internet has many videos which capture several amazing reactions of the groom and bride during their wedding festivities. One such video of a groom's reaction after seeing his bride has gone viral on social media.
In the clip, the groom named Rishi, can be seen entering the room where his bride, Soumya Verma is getting ready. As soon as he sees Soumya in the cream-coloured grown, Rishi gets surprised and his amusing reaction gets captured on camera.
See video:
After seeing his bride, Rishi also kisses Soumya's hands and then gives her a flying kiss on her cheek so as to save her makeup. Later, the couple poses for a photo.
Alos Read: Watch bride's reaction after groom performs on 'Cutiepie' song; video goes viral
The video was posted on an Instagram page named wedding_fairs along with a caption, "And best groom reaction goes to @rishi.fitt .... But seriously how freaking adorable is Rishi's reaction to his bride on their Sangeet Night? This moment gives me chills!"
Ever since the video has gone viral on social media, it has garnered over 32k views and over 2k likes. Netizens also loved the adorable reaction of the groom and filled the comment section with lovable comments.
One of the users said, "Beautiful couple God bless you"
Another wrote, "very loving groom"
Also Read: Groom breaks down after seeing his bride; watch video to know reason