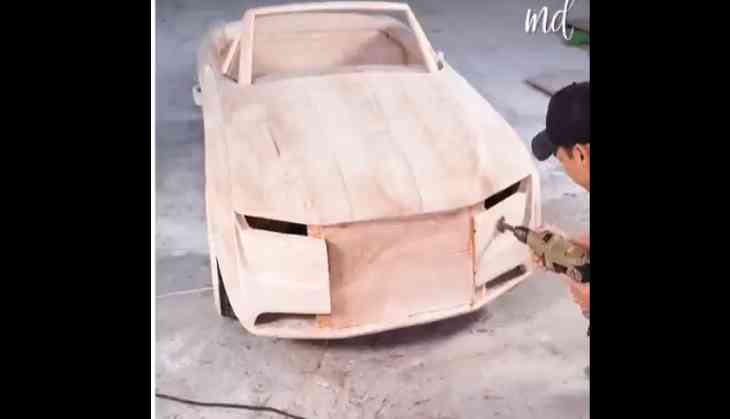 Father makes 'Wooden Rolls Royce' for son
If there is credit that goes to mothers behind every child's success then one can't ignore fathers' hard work who sacrifice everything for their child's happiness. Just like the father-daughter bond, the father-son relationship is also precious as a mother relationship with her son.
Despite being strict, a father can go to any level to provide the best facilities only to see a smile on his children's faces. Recently, a viral video is the best example to see a bond between a father and his son.
In the now-viral video, a man is seen building an amazing car out of wood for his son that exactly resembles a luxury car, Rolls Royce.
Interestingly, the father takes his son on the ride and also enjoys the drinks after parking their wooden car on the side of the road.

Watch Video:
पिता का प्रेम और बेजोड़ कौशल के मेल से सिर्फ 68 दिन में बनी "Wooden Car".
बेटे के लिए स्पेशल गिफ्ट... pic.twitter.com/bM6DoCgSsM

— Dipanshu Kabra (@ipskabra) January 28, 2022

Undoubtedly, the credit goes to the man who put all his efforts to create this masterpiece for his child.
This amazing video was shared by IPS officer Dipanshu Kabra on his official Twitter account.
"Wooden Car made in just 68 days by a combination of father's love and unmatched skill. Special gift for son..."
The video has also garnered 39.5k views, 3159 likes, and several comments. Netizens have applauded the man for giving such a lovely gift to his son.
Many users call it a beautiful gift while many like the skills of the father.
A user wrote, "Beautiful carpentry skill. Not many professional carpenters will be able to do this."
What's your view about this viral video?