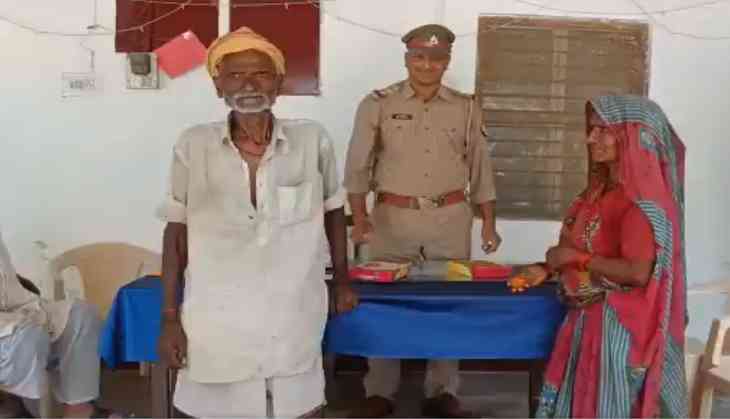 Screengrab from the viral video
Uttar Pradesh Police left amused after an elderly couple approached them to resolve their personal matter.
The elderly couple, Shivanath and Janka Devi were involved in a nasty fight which resulted in the involvement of the police.
The couple was living separately after their nasty fight, according to Gonda Police. Later, they were called to the police station to resolve the issue.
Also Read: Fuel Price Hike: Friends gift bottles of petrol, diesel to couple as wedding gift in Tamil Nadu
The incident took place in Katra Bazar, Gonda, Uttar Pradesh on April 11. However, it came to light when the video of the elderly couple in the Police station went viral on social media.
SP Santosh Mishra listened to both sides of the elderly couple and then he managed to resolve their dispute.
In the now-viral video, the couple can be seen feeding each other sweets. Interestingly, when the elderly man fed the sweet to his wife, he jokingly told his wife, "Humra hathwa na kaat jaai (Don't bite my hand).
See video:
दादा-दादी का झगड़ा हुआ और थाने तक पहुँच गया, अब समझौता देखिए।❤️😅

खूबसूरत वीडिओ💕#Love #Respect pic.twitter.com/VyV9wSH9Vg

— SACHIN KAUSHIK (@upcopsachin) April 13, 2022
The official Twitter handle of Gonda Police also shared the story. "Under the direction of #SPGonda @IPS_SantoshM , the police station Katrabazar presented an example of humanity, by feeding sweets to a 75-year-old elderly couple, a compromise was made between them," read the caption.
Since the awdorable video has surfaced on the Internet, it has garnered 559.4K views,
4,195 Retweets and 24.7k likes. Netizens thanked the police for uniting the couple by resolving their dispute. People loved the happy ending and applauded Santosh Mishra for solving the matter so efficiently.
Also Read: This viral video of elderly couple working out together is a new couple goal