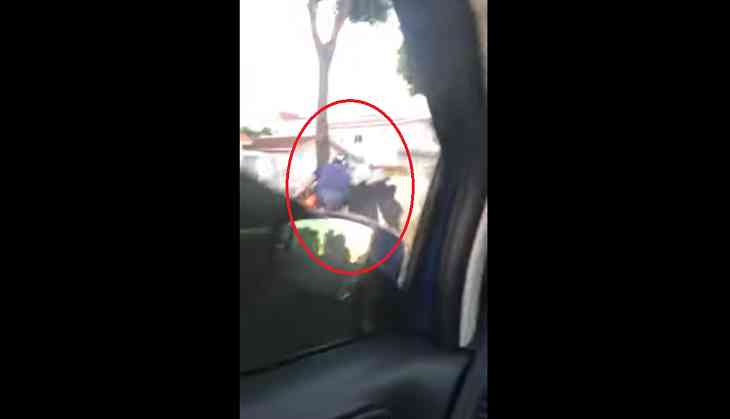 Viral video shows cow running onto road and attacking motorist
Internet is filled with various road accidents that send a chill down the spines of many. Another road accident has surfaced on the Internet which is not just shocking but also freakish. In the video, a cow can be seen attacking a motorcyclist.
The shocking footage was shared by a YouTube page named ViralHog. The viral video is taken from a car parked at the side of the road in Brazil.
In the beginning, a man can be seen walking on the footpath. Suddenly, the man stepped back after seeing a cow running towards him. However, he moved back but the cow knocked over a motorist speeding on the road.
Watch viral video:
Thankfully, the motorist who can be seen wearing a helmet left unhurt in the incident. While the cow turned away and moved in a different direction.
The video was shared with a description which stated that the incident took place in Santa Catarina, Brazil on October 27.
"I was in the street, inside the vehicle, waiting for a friend, when suddenly a cow passed and two men running after her, I took the cell phone and started recording, then she came running back from a terrain where she had entered and ended up colliding with the motorcyclist," the video description adds.
Since the video is being shared online, it has garnered over 64,000 views and several comments from users.
Some netizens said that the biker was lucky to have escaped with no serious injuries.
A user wrote, "You mess with the bull, you get the horns. You mess with this cow, you get body slammed."
What's your view on this road accident video?