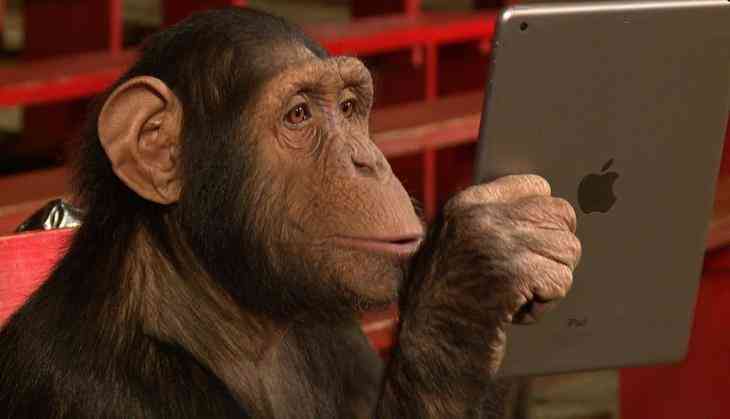 Ape using Apple iPad (representative image)
Who says that animals can't be tech-friendly? Because a chimpanzee has made everyone wrong by using iPhone so smartly that it has grabbed the eyeballs of social media users.
Yes, you read right! A chimpanzee's video went viral on the social media in which he can be seen browsing Instagram on iPhone. Not only this, a savvy chimpanzee was perfectly scrolling, swiping and browsing the photo-sharing app just like we all did!
The video of the ape has left everyone amused and has received over 1.4 million views. The video is doing the round on social media sites like Twitter and Reddit.
In the viral video, the chimp was using an iPhone either XS or XS Max with an OtterBox case. He made some amazing taps on the screen as a human does.
Watch what this tech-friendly chimpanzee was watching on Insta, have a look at the video:
The one-minute clip of chimpanzee has won the hearts of social media users and soon, sharing of the video was started all around.
Check out how Netizens reacted:
April 25, 2019
This is apparently a thing, and it's really cool and also creeping me out. https://t.co/EdRiaYdwUo

— Charlotte Clymer🏳️‍🌈 (@cmclymer) April 25, 2019
The real human test is if this chimp threw an all out shit-fit when the device was taken away like my kids do.

— boooop! (@sfronky) April 25, 2019
Chimps are very intelligent to the point that Washoe, a chimp who learned ASL, taught her adopted chimp son & other chimps ASL to communicate. I got to see them in class once. They were brilliant. I have no doubt that a chimp can use an iPhone

— LeAnn Murphy (@VividConfusion) April 25, 2019
They are far more human than most people give them credit for. Most animals are not given nearly enough credit for their intellect, or emotional abilities.

— JC Dill (@jcdill) April 25, 2019
To anyone saying it isn't real, here's the hand connected to arm to shoulder.

And not a monkey, that's an ape, same group as humans. Looks like a bonobo, literally the closest relative to humans

Scientists been using screens like this to test animal intellect for DECADES too pic.twitter.com/WU7qP73o77

— Tyler the Cheese-Rater 🧀 (@Please__Laugh) April 25, 2019
We must say that this chimp is really a champ!
What do you think? Share your comments...
Also Read: Earthquake viral video: Watch how dramatically water spills from a rooftop swimming pool on 48-floor building