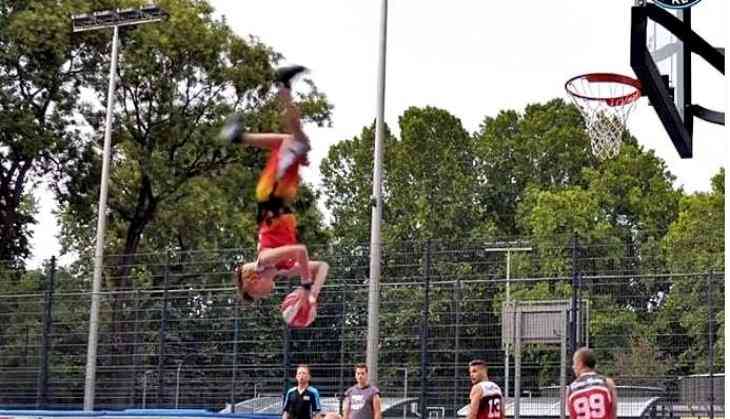 A lot of people have world records to their name for things that one cannot imagine. Another group of people have broken a record for carrying out longest barani flip bounce-pass relay for a forward flip slam dunk. For the unversed, a barani flip is an aerial trick consisting of a front flip and a 180-degree turn.
The official Twitter account of Guinness World Records posted a clip of a group breaking this record. Back in 2020, Face Team Acrobatic Sports Theatre from Budapest, Hungary, carried out 35 uninterrupted barani flips while passing basketballs to each other.
According to Guinness World Records, The Face Team players persistently try to be the greatest in freestyle dunking, juggling, and acrobatic basketball. Their team name refers to the fact that each member of the group have a unique set of skills, ranging from basketball freestyle and juggling to dancing and parkour.
Take a look at the video:
Wait for the epic dunk... pic.twitter.com/msOo9K0IYs

— Guinness World Records (@GWR) February 11, 2023
This video was posted a few days back. Since being shared, it has been viewed 18,000 times and has been liked over 100 times. The clip has also received a few reactions. Many were amazed by the coordination and efforts.
Take a look at some of the reactions:
A Twitter user wrote, "That was impressive! Well executed." A second user added, "Nice." "Wow," wrote a third user.
Also Read: Flight makes emergency landing after flames shoot from wing [WATCH]