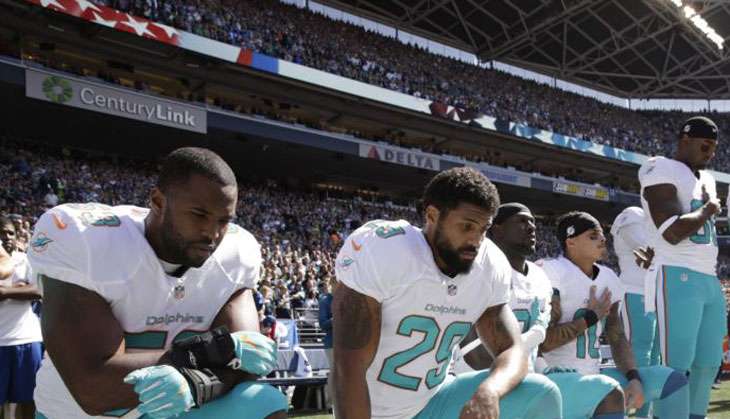 On the opening day of the U.S. National Football League, Kansas City cornerback Marcus Peters raised a black-gloved fist during the national anthem. The protest amplified later on 11 September when four Miami Dolphins kneeled on the sideline with hands on their hearts as "The Star Spangled Banner", the national anthem of the United States of America played in Seattle.
The protests were inspired by San Francisco backup quarterback Colin Kaepernick, the first NFL player who kneeled during the anthem in preseason games to call attention to what he termed the oppression of blacks and other minorities.
"I chose to get involved to see if I could create change, raise awareness. And I want to make it clear that there is no disrespect to the military or to police officers - I'm not about that. I love everyone," Miami's Jelani Jenkins, one of the Dolphins to kneel was quoted by an international news agency.
"I would like to keep moving forward in the right direction with everybody: equal rights, equal opportunity. From my position, it doesn't seem that it's happening. That's why I took a stand," he further added.
According to the report, the Dolphins got support from one very important person - their boss, team owner Stephen Ross.
"I don't think it was any lack of respect. I think everybody here, our team and our whole organisation, respects the flag and what it stands for, the soldiers and everything. These guys are really making a conversation of something that's a very important topic in this country and I'm 100 percent supportive of them," he was quoted saying.
Peters' gesture was the only one visible throughout the early games on 11 September, as the anthems took on more significance because of the 15th anniversary of the 9/11 attacks.
"I come from a majority black community from Oakland, California ... so the struggle, I seen it," Peters was quoted after the Chiefs beat San Diego 33-27 in overtime. "I still have some family in the struggle. All I'm saying is we want to educate those, the youth that's coming up."
The four Miami players - Arian Foster, Michael Thomas, Jenkins and Kenny Stills - registered their protest shortly before kickoff. The four players stood while President Barack Obama's message played regarding the 15th anniversary of 9/11 before taking a knee. All four stood at the conclusion of the anthem.
As per the report, NFL commissioner Roger Goodell said, "I don't necessarily agree with what he's doing."
In 1968 Olympics, US sprinters Tommie Smith who won the gold and John Carlos who bagged bronze, in the 200-meter race also stood on the medal stands with raised black-gloved fists thoughout the US national anthem in what they had called a "human rights salute". The International Olympic Committee ordered Smith and Carlos expelled from the games because of the protest.
Peters' gesture was also a tribute to the athletes.