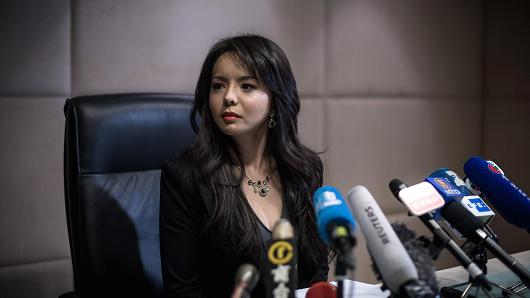 Miss World Canada Anastasia Lin has been barred from entering China to take part in this year's pageant in the southern island province of Hainan. This news has been confirmed by Caylan Ford, a friend of the outspoken Chinese-Canadian contestant.
Lin was prevented from boarding her connecting flight in Hong Kong, Caylan Ford said in an email. She said authorities gave no reason for the blockade.
Why is China scared?
Lin is a rather outspoken critic of the Chinese religious policy and a follower of the Falun Gong meditation sect. This sect was outlawed by China's ruling Communist Party as an evil cult in 1999.
In a pre-departure statement, she said denying her entry would mean China was trying to prevent her from speaking out on human rights issues, as reported by news agencies.
The story so far:
Human dignity is the major crux of Lin's campaign and this is what prevented her from entering China. After emigrating to Canada with her mother as a teenager, she started following meditative practice Falun Gong. According to China's government, it's an evil cult.
But Lin begs to differ. She says,"it's a peaceful but persecuted practice that's dangerous to do in China."
What is Falun Gong meditation sect?
Falun Gong is a Chinese spiritual practice that combines meditation and qigong exercises with a moral philosophy centered on the tenets of truthfulness, compassion, and forbearance. Through moral rectitude and the practice of meditation, practitioners of Falun Gong aspire to better health and, ultimately, spiritual enlightenment. And, China finds the practice dangerous.
What did Lin say about the fracas?
"Freedom is our nationality, and Canadian people, we believe in the fundamental value of respect for human dignity," Lin told Radio Free Asia.
"The victims didn't do anything wrong. They are people of faith and morality. They are people that any country would be fortunate to have," Lin testified to the US Congressional Executive Commission on China.
Lin told The New York Times, "When I was told I'm persona non grata, I had to look it up on Wikipedia. At first I was mad, but then I realised I've joined the ranks of such handsome men as Brad Pitt and Christian Bale. Now I realise it's a badge of honour."
Family in danger?
Lin has stated that her father, who still lives in China, was forced to sever contact with her after she won the Miss Canada crown in May.
She also says that she never received the necessary paperwork from the country to travel to the Miss World competition.
"Chinese Communist Party has been using visa issues and family members in China to silence overseas Chinese and not just overseas Chinese, journalists, academics and in the long term no one will speak up," Lin told CTV News.