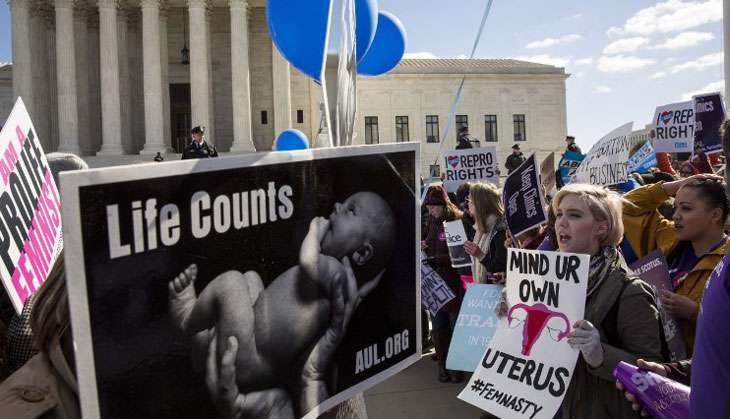 On 27 June, the United States Supreme Court struck down Texas's HB2, an omnibus abortion bill that restricted access to reproductive services in the southern state of Texas. President Barack Obama welcomed the decision, lauding the fact that the judgement on Whole Woman's Health vs. Hellerstedt will provide substantial momentum to the pro-choice movement in the US.
In a decision by 5-3, the Supreme Court said two parts of the Texas law created a "substantial obstacle in the path of women" who are seeking abortions and neither provision "offers medical benefits sufficient to justify the burdens upon access that each imposes".
"I am pleased to see the Supreme Court protect women's rights and health today. As the brief filed by the Solicitor General makes clear and as the Court affirmed today, these restrictions harm women's health and place an unconstitutional obstacle in the path of a woman's reproductive freedom," President Obama was quoted to have said in a PTI report.
"We remain strongly committed to the protection of women's health, including protecting a woman's access to safe, affordable health care and her right to determine her own future. Women's opportunities are expanded and our nation is stronger when all of our citizens have accessible, affordable health care," the US President said.
Hillary Clinton described the Supreme Court's decision in Whole Woman's Health v Hellerstedt as a victory for women across America.
"By striking down politically motivated restrictions that made it nearly impossible for Texans to exercise their full reproductive rights, the Court upheld every woman's right to safe, legal abortion, no matter where she lives," Clinton said.
For many years, the Supreme Court has maintained that regulations with the purpose or effect of presenting a substantial obstacle to a woman seeking an abortion constitute an undue burden on women trying to exercise their reproductive freedom, and are contrary to principles enshrined in the Constitution, said the US Attorney General, Loretta Lynch.
"I am pleased that the Supreme Court has reaffirmed this longstanding principle in its decision today," she said.
However, Penny Nance, CEO & president of Concerned Women for America (CWA) said the Supreme Court decision represents a great setback for woman's health and safety.
"The Supreme Court dishonors that commitment today by imposing its policy preferences over the women of Texas. It is simply a complete fabrication to say that the Constitution somehow demands that these laws be struck down," she said.
--PTI