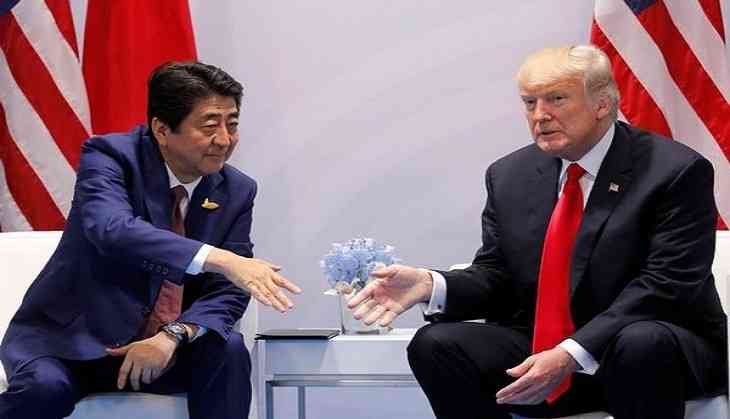 Donald Trump and Shinzo Abe
United States President Donald Trump said that he would dine with Japanese Prime Minister Shinzo Abe at the Trump Tower here, adding that he would congratulate Abe on his landslide victory in the recent elections held in Japan.
"Prime Minster @AbeShinzo is coming up to Trump Tower for dinner but, most importantly, he just had a great landslide victory in Japan. I will congratulate him on behalf of the American people!" he tweeted.
Trump, prior to emplaning for New York to attend the United Nations General Assembly (UNGA), said he would discuss matters related to military and trade with Abe.
"Going to New York. Will be with Prime Minister Abe of Japan tonight, talking Military and Trade. We have done much to help Japan, would like to see more of a reciprocal relationship. It will all work out!" he had tweeted.
The meeting comes in the wake of a possible trade dispute between the US and Japan, with Trump threatening to impose 25 per cent tariffs on import of automobiles from Japan and other nations. Japan, too, has warned the US of retaliation against the tariffs, if imposed, The Hill reported.
Abe won 553 out of 807 votes, beating his only contender, former defence minister Shigeru Ishiba to pave the way to become Japan's premier for three more years. He has been serving as the prime minister of the country for nearly six years and with this victory, he may become Japan's longest-serving premier.
-ANI