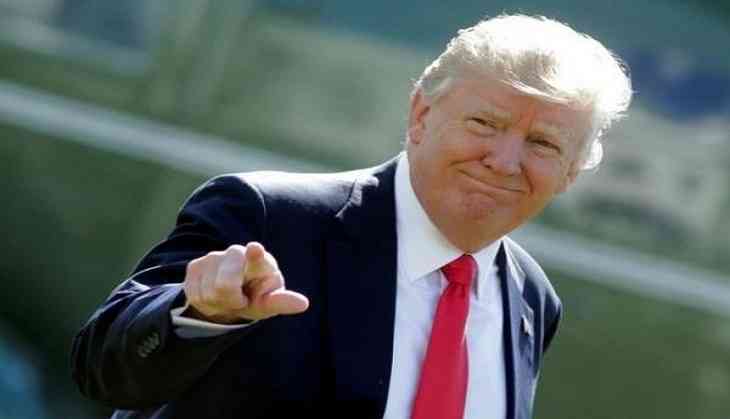 US President Donald Trump
Friendship between the United States (US) and France is unbreakable, said US President Donald Trump after meeting French President Emmanuel Macron here.
Trump and Macron met at Élysee Palace for bilateral talks.
After their bilateral meeting, Trump tweeted: "Great bilateral meetings at Élysee Palace w/ President @EmmanuelMacron. The friendship between our two nations and ourselves is unbreakable (sic)."
Great bilateral meetings at Élysée Palace w/ President @EmmanuelMacron. The friendship between our two nations and ourselves is unbreakable. pic.twitter.com/IOSoC0MdPv

— Donald J. Trump (@realDonaldTrump) July 13, 2017
Trump, who is on a two-day visit to France, will serve as guest of honour at France's Bastille Day national military parade on the 100th anniversary of America's entry into World War I.
The Bastille Day Military Parade is a French military parade that has been held on the morning of 14 July each year in Paris since 1880, almost without exception.
Centrist French President has extended Trump the invitation to attend the Bastille Day military parade on the Champs Elysees in spite of the latter pulling the United States out of the Paris Climate deal earlier this year.
Earlier, Trump with his wife Melania Trump met Macron and his wife Brigitte Trogneux at the Invalides monument in Paris. The Presidents engaged in a lengthy handshake that lasted several seconds.
Melania shook hands with Macron before greeting Brigitte with two kisses and a friendly hand grasp.
Trump and Melina also visited the US Embassy in France and met with the officials of the embassy and members of the US military.
Trump's sojourn to Paris is amid a row over allegations that his family colluded with Russia to win U.S. presidential election.
Trump's son Donald Trump Jr. recently admitted that he had set up a meeting last year with a woman he believed was a Russian government lawyer brandishing Kremlin dirt on Hillary Clinton.
Trump, while addressing a press conference along with Macron, defended his son and said there was nothing unusual in that meeting.
He said gathering opposition research on rivals during an election campaign was standard practice and that "most people would have taken that meeting".
He, however, cleared that 'nothing happened' as a result of the meeting.
Trump also spoke about the US' withdrawal from the Paris Climate Deal.
"Something could happen with respect to the Paris accord," he said, adding that "if it didn't happen that will be OK too".
Macron said he and Trump had managed to look past their "occasional disagreements" to focus on their countries' long-lasting alliance.
-ANI