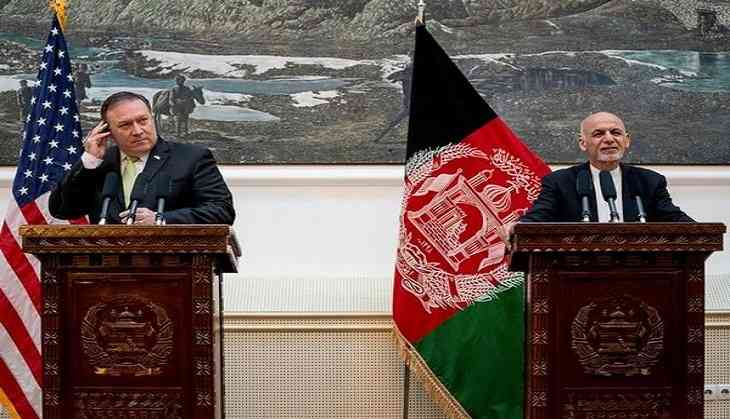 United States Secretary of State Mike Pompeo, who made an unannounced visit to Afghanistan, said that Washington D.C. is fully willing to assist Afghan President Ashraf Ghani's efforts on resuming peace negotiations with the Taliban.
Pompeo, who arrived in Kabul after making trips to North Korea and Vietnam, met high-ranking Afghan officials, including Ghani, during his brief stopover, TOLONews reported.
Stressing on US President Donald Trump's "South Asia Strategy", Pompeo said that the new war strategy in terms of sending more American troops into Afghanistan to increase pressure on the Taliban on resuming its peace talks with the civilian government was "indeed working."
"Our South Asia strategy sent a clear message to the Afghan people and its security services that we will support them, as they continue to fight to defend their country and their people. The strategy sends a clear message to the Taliban that they cannot wait us out. And we are beginning to see the results both on the battlefield, the Taliban's momentum is slowing and in the prospect of peace with them," Pompeo said during a joint media briefing, along with Ghani.
He added that he would reassure Afghans "that we will support them as they continue fighting to liberate their country and their people."
The US Secretary of State underlined that the peace process would be led by the Afghan side, adding that more support would be needed from the neighbouring countries.
"We discussed President Trump's South Asia strategy in detail and agreed that the strategy is indeed working. We also discussed the Afghan-led and Afghan-owned peace process and the successful ceasefire," Pompeo continued.
Commenting on the upcoming parliamentary elections in Afghanisation, he called for the electoral process to be held in a legitimate and a credible manner.
On the other hand, Ghani said that it was crucial for the Islamic countries to come together in finding a solution to end the decades-long conflict in Afghanistan.
(ANI)